New York City-based real estate investment trust VICI Properties announced a deal to buy out MGM Growth Properties, one of their largest competitors. The deal immediately diversifies VICI's portfolio and will make them the largest landowner on the Las Vegas Strip. VICI properties has made a name for itself acquiring a significant number of properties located on the Las Vegas Strip and elsewhere throughout the country, building one of the most impressive gaming portfolios in the country. The new deal includes a lot of moving parts but will allow MGM to retain some control over the properties that they are currently operating, while VICI continues to grow through its investments.
Details of the Deal
VICI Properties is acquiring MGM Growth Properties with the $17.2 billion deal. MGM Resorts International is the majority stakeholder of MGM Growth Properties and will receive roughly $4.4 billion in cash through the deal. The deal also includes $5.7 billion in debt as well as a one percent ownership in VICI for MGM Resorts, which is valued at $370 million. In exchange for the significant price tag, VICI will receive 15 entertainment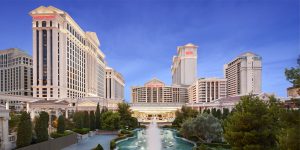 properties, significantly changing their geographical footprint.
Not all of MGM Growth's properties are located on the Las Vegas strip; out of the deal, VICI receives 15 casinos and resorts across eight states, including seven properties on the Strip. Under the agreement, MGM Resorts will continue to operate the properties acquired by VICI under a 25-year lease agreement. The lease agreement includes three 10-year renewals and increased rates that will pay an initial annual rent of $860 million. VICI will also retain MGM Growth's 50.1 percent ownership stake in a join venture with Blackstone Group, a New York-based investment group that owns MGM Grand and Mandalay Bay.
About VICI Properties and MGM Growth Properties
This isn't the first time that a deal between VICI and MGM Growth has been proposed. Back in 2018, a merger between the two firms was being considered. The merger, however, never materialized. Since then, the two companies have built their portfolios separately, leading to the deal that was announced on Wednesday.
VICI Properties was initially created to help Caesars Entertainment emerge from bankruptcy, and for some time the firm's only tenant was Caesars. Since then, the real estate investment trust has made significant strides to become a real contender, announcing deals to purchase the Venetian, Palazzo and Sands Expo and Convention Center for $4 billion. Taking into account their latest acquisition of MGM Growth Properties, VICI has gone from having Caesars contribute 100 percent of their revenue, to just 41 percent. The firm's latest acquisitions give the company an estimate enterprise value of $45 billion.
In recent years, MGM Resorts has been offloading a number of real estate assets. Their publicly traded real estate investment trust, MGM Growth Properties, was founded in 2016 to help serve this purpose. Some of the properties in their portfolio include Mandalay Bay and the MGM Grand Las Vegas. Those properties have now become coveted assets for VICI Properties.
A New Gaming Landscape
More than a decade ago, MGM Resorts retained the Strip's largest landowner. At the time, the company controlled 800 acres of Strip real estate, but those properties have since been reduced. Now, VICI Properties is set to be the new largest landowner on the Strip, with more than 660 acres across a dozen properties. These properties include nearly 40,000 hotel rooms and 6 million square feet of convention and meeting space. Throughout the Strip, the VICI properties have very few competitors. Yet these competitors include industry giants like Wynn Resorts and billionaire Phill Ruffin who owns Treasure Island and Circus Circus.
The transactions for the MGM properties acquired by VICI Properties are expected to officially close by the end of the year or in early 2022. VICI General Counsel Samantha Gallagher shared that the company does not expect that any of the properties acquired will be sold due to regulatory concerns related to antitrust issues.