A new bill was introduced to Congress late last month seeks to end the practice of Greyhound racing altogether. Opponents of the sport are looking to close the racing tracks at two of West Virginia's casinos and then take their fight national.
The Greyhound Protection Act, or House Resolution 7826, would amend the Wire Act and make gambling on commercial greyhound races illegal. In addition, the bill would ban gambling on open-field courses where the hounds are judged based on their ability to chase down a hare. The bill has been introduced by U.S. Representative Tony Cardenas, a Democrat from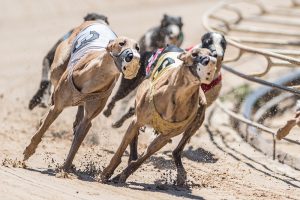 California. "Greyhound racing is cruel and must end," says Cardenas. "My bill allows for a sensible wind-down of an already-declining industry that will ultimately outlaw greyhound racing. As a longtime animal welfare advocate, I am committed to always speaking up for the voiceless."
Representative Cardenas has been a long-time animal welfare advocate. As a member of the Congressional Animal Protection Caucus he has introduced several bills aimed at reducing exotic animal poaching, increasing penalties for cruelty to animals in interstate commerce, and limiting the kinds of animals used in research and medical testing.
Many animal rights activists and supporters of the Endangered Species Act have expressed praise for the Bill. President of Animal Wellness Action, Wayne Pacelle, said "Greyhound racing will soon end in the United States, and this bill allows for a managed phase-out of the activity to enable planning to provide homes for the dogs and certainty for the owners, workers, and breeders in the industry." He went on, "Greyhound racing is dying, and it's best to manage the shutdown of the industry to allow for a soft landing for the people and the animals involved."
The Current State of the Sport
Florida was the first state to legalize greyhound racing in 1931. In 2018, the State passed an amendment to their constitution to bring greyhound racing to an end by 2019. In that time eleven racetracks were closed down. West Virginia currently hosts two greyhound racing tracks; Wheeling Island Hotel-Casino-Racetrack and Mardi Gras Casino and Resort. Both fall under Delaware North hospitality ownership and both are still in operation. Across the country, Texas shut down its last greyhound racetrack, Gulf Greyhound Park. Alabama closed its last track in April, the Birmingham Race Course. Arkansas also announced that it will be phasing out the sport by the year 2022; closing another Delaware North location at Southland Casino Racing.
GREY2K is an organization committed to protecting greyhounds and ending the sport altogether. Executive Director Carey Theil said, "momentum is building for a national phase out of greyhound racing." He went on, "since the end of the (West Virginia) legislative session, dog racing has ended in two more states, and West Virginia will soon be the last state to sanction the activity. According to state records, more that 9,000 greyhound injuries have been reported at Mardi Gras and Wheeling since 2008, including 3,254 dogs that suffered broken bones and 420 greyhounds that died. Greyhounds also endure lives of confinement, and some dogs are trained by being given small animals to tear apart."
Decision for the Federal Government of the States?
U.S. Representative David McKinley, a Republican from West Virginia said that the Bill is unlikely to make it to the floor for a vote. He believes the question of greyhound racing is one best left up to the individual states to decide. "The state (West Virginia) should hold authority to decide if greyhound racing should continue," said McKinley. "This really isn't a federal issue. In recent years there has been a vigorous debate in the West Virginia Legislature about the future of greyhound racing. Given the potential impact on West Virginia jobs and our local economy, that is the appropriate venue for this decision."
West Virginia University, is a 2014 report, found that the greyhound racing industry employs more than 1,700 people in West Virginia. The greyhound racing industry infuses more than $31 million into the local economy and contributes roughly $500,000 in state and local taxes.