According to the Texas Ethics Commission records, Las Vegas Sands has hired 60 lobbyists in Texas to make a push for a gaming expansion that could bring new legislation to the Lonestar state that would allow for additional casinos. Despite the small army of lobbyists, many believe that gaming expansion in the state could still be a long way off, as they face formidable political opposition and time constraints.
Ghost Town for Gaming
Texas has some of the strictest laws against gaming in the United States. The state prohibits casino gambling, including slot machines, poker, blackjack, and roulette. This applies to both brick-and-mortar and online casinos. Sports betting is also prohibited, despite the fact that nearly half the country has rolled out new legislation in favor of sports betting since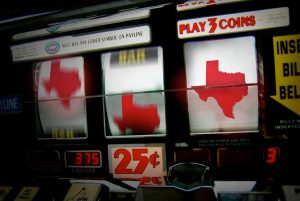 the 2018 Supreme Court ruling lifted the ban. Texas is also one of four states that does not allow Class III gambling. This includes banking card games and slot machines. Despite these strict regulations, there are still two casino-style venues in the state.
The Indian Gaming Regulatory Act of 1988 gives the Kickapoo Traditional Tribe of Texas the right to operate the Kickapoo Lucky Eagle Casino. The other casino-like entertainment center is the Naskila Entertainment venue in Livingston. Naskila Entertainment, which is owned and operated by the Alabama-Coushatta Tribe of Texas, has some gambling, but it is still not a full-blown casino. The AC Tribe has previously battled with state authorities for the right to offer electronic bingo, another indication of Texas' strict gaming laws. Those in favor of a gaming expansion in the state, feel that a change is long overdue.
Calls for Change
Las Vegas Sands, a major gaming contender in the United States, is leading the charge for more casino gambling in Texas. The push was initially led by the company's chairman and CEO, Sheldon Adelson, until he passed away last month. Since then, Rob Goldstein has taken the position, but he has stated that his focus is still on bringing gambling expansion to Texas. Goldstein acknowledge the size and scale of Texas makes it an enticing prospect for potential casino projects but admits that the push is still in the very early stages of development.
Lobbyists may be interested in approaching the Texas House Licensing and Administrate Procedure Committee, the group responsible for considering legislation that regulates gaming industries. Rep. Art Fierro (D-El Paso), who is a member of the committee, has already vocalized his support of a casino expansion. Fierro feels that the revenue generated from such an expansion could help stimulate the economy, which has been weakened by the effects of the pandemic. A successful casino expansion could also help local property tax and bring jobs to El Paso County. Fierro did note that any expansion should take into consideration the federally recognized Indian reservations in Texas.
A constitutional amendment has been proposed by Rep. Joe Deshotel (D-Beaumont). If the Texas House passes the amendment, Texas legislature would be required to author the laws necessary to provide licenses to nine new casinos near the Texas coast. The amendment could be put to voters in a November in a referendum. Despite the optimism from those in favor of expansion, concrete legislation still seems to be a long way off.
Vocal Opposition
Lt. Gov. Dan Patrick, who presides over the Texas Senate, has recently commented on the potential casino expansion, as well as sports betting legislation. Patrick himself has been vocally against any gaming expansion and points out that the Senate Republicans have an 18-13 majority, making it nearly impossible for any bill to receive the 21 votes needed to send a constitutional amendment to voters. Patrick also has been quoted saying "infighting and competition" surrounding gambling expansion has weakened any legitimate push to make it a realistic prospect. Patrick confirmed that gambling expansion will certainly not be gaining any traction in the current session.
Patrick isn't the only obstacle standing in the way of a legitimate casino expansion. Texas Values, an advocacy organization rooted in "biblical Judeo-Christian values," has also been vocal in their opposition. The group has considerable influence amongst Republican lawmakers, and they have claimed that a casino expansion would be bad for families and the economy.
There are only 105 days remaining in the current session, so time is of the essence for the 60 lobbyists from Las Vegas Sands. A bill to legalize casinos would have to be approved by Gov. Greg Abbott, who has spoken against expansion in the past, but has recently indicated that he wants to have open communication between officials as they work through the new expansion ideas. While the decision may not come during this session, it seems as though the seeds for a commitment to a legitimate expansion have been planted.