Tennessee has launched an all online sports betting program which industry leaders say is unlike any other in the country. Legal sports betting went live in the state on November 1. On July 1 of 2019, Tennessee legalized sports betting in the state and in April of this year, the Tennessee Education Lottery Corporation approved a set of regulations governing the industry.
Four operators have been issued licenses to open legal sportsbooks within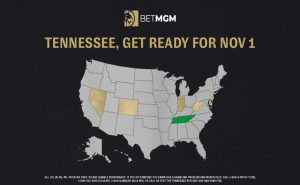 Tennessee. Action 24/7, BetMGM, DraftKings, and FanDuel have all gone live on strictly mobile platforms. Tennessee is the first state in the country to structure sports betting in a strictly online format. All other states have introduced the practice under the umbrella of a brick and mortar sports book license with an online platform or under the direct supervision of an established casino in the state.
The Rules
Hopeful sports bettors in Tennessee will face a number of rules in order to place their legal wagers. Patrons must be over the age of 21 and, like most other sports betting states, will need to be within the physical boundaries of Tennessee. Sports betting operators are explicitly banned from building out a brick and mortar sports book where patrons might visit, place bets, and watch the sporting events. Rather, gamblers will be required to place their wagers via an online app created by the licensee.
The Tennessee Education Lottery Corporation has approved a broad range of sports and events upon which wagers may be placed. The list can be found here and ranges from NASCAR and Baseball to Bowling and Cricket. The Education Lottery Corporation has also approved wagers to be placed on collegiate sports albeit with some specific restrictions. For instance, there is a restriction on in game betting on "individual actions, events, statistics, occurrences, or non-occurrences," according to the published regulations.
A Range of Promotions
All sports betting operators are expected to offer a range of promotions in the first months of launch. Action 24/7 is currently offering patrons over $50 in sign up bonuses with daily promotions continuing through the coming weeks. BetMGM is offering new customers risk free bets up to $500 in addition to deposit matching and odds boosts.
DraftKings offered patrons who had pre-registered for their platform a $50 free bet on the day the app launched. Since then, new registered users will be eligible for $1,000 in free bets available on a rolling basis as patrons place bets and use the app. FanDuel is following suit with a sign-up bonus of $50 and risk-free bets up to $1,000. FanDuel is also enticing gamblers to bet on hometown team games by boosting odds through their Hometown Heroes promotion.
Subtle Differences
Visitors to the state looking to place sports wagers may notice subtle differences in Tennessee due to the nature of an all online format. State regulators have also placed a 10% hold requirement on sports betting operators, a move that has not been implemented in any other sports betting jurisdictions.
This requirement could mean that, since bettors can only receive a maximum payout of 90%, this could increase the cost of placing bets and raise the amount that operators in Tennessee keep for themselves. Jessica Weldman is an analyst for PlayTenn.com, a sports gambling site in the state. According to her, this could mean that sports book operators will have a slightly higher cost for placing wagers on their sites in order to keep in compliance with the hold requirement, a requirement that is roughly 5% higher than any other state. "I think only a small percentage of very avid bettors are going to really notice the pricing discrepancy, if there is one," said Weldman.
Industry leaders from the four current licensees are focused on keeping customer experiences the same regardless of which state a bettor finds himself. All are focused on providing the best possible consumer experience in Tennessee under the regulations of the state. Tina Hodges of Action 24/7 said, "it's interesting because people talk about differences, but for Tennessee bettors, there's no difference. There's only one way being offered in Tennessee. I don't try to compare the milk prices in Nashville to the milk prices in Iowa, because no one in Nashville is buying milk in Iowa."