Harrington Online Casino is one of the few legal gambling sites that was made to serve anyone who is physically located in the state of Delaware. This site was launched in 2013 soon after online gambling was legalized in the state in 2012 and they are licensed by the Delaware State Lottery.
Using the very popular yet outdated 888 software, they provide a platform where you can play online poker as well as participate in a few dozen casino games using the same account. For the purpose of this article, we will be solely focusing on the casino portion of their operation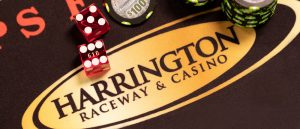 and giving our thoughts on exactly what they have to offer when it comes to game selection, banking options, and player promotions. Before you make a decision on whether or not this is the right site for you we recommend reading the following review to get a deeper understanding of what Harrington Online Casino Delaware is all about.
Game Selection at Harrington Online Casino Delaware
Slots
There are 50 slot games available here which amounts to a little over 96% of the entire game library. If slot games are not your cup of tea then you might want to consider joining a different online casino.
Of these 50 slot games, 13 are labeled as exclusive games that can only be found in legalized Delaware online casinos. Eight of these exclusive slot games are jackpot slots which reward up to six figures for the top prize which is pretty insane for such a small site. Overall, this slot selection is smaller than you will find in other states that offer legal online casinos but it is exactly the same size as what you will find in other Delaware online casinos.
Table Games
There are two table games located under the "Card and Table Games" section of the game library. One of these games is American roulette which features a zero and a double zero on the wheel while the other game is classic blackjack that uses six decks.
The minimum bet for both of these table games is set at $1 which is great for low rollers who just want to have some cheap fun. The maximum bet limits of these games differ greatly since blackjack will allow you to wager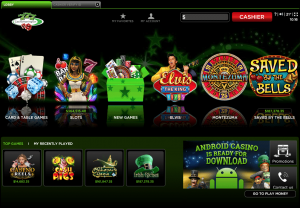 $15,000 per hand while roulette will only permit a $300 bet per spin.
Video Poker
There are a grand total of zero video poker games available here. However, it appears that they do plan on adding some in the near future since they have a section in their game library called "Card and Table Games".
Live Dealer Games
It's not all that shocking that an online casino which only offers two table games and zero video poker games also offers zero live dealer games. We recommend driving up to New Jersey and registering for one of their many legalized online casinos if you are dying to play some live dealer games since you will not be able to find them on any gambling sites in Delaware.
Specialty Games
Much like the other online casinos in Delaware, there are no specialty games available here. Every single game that you will find in this game library can be categorized as a slot game or a table game. If you want to play some specialty games you should consider taking a drive up to New Jersey since they have plenty of legalized online casinos that offer a plethora of specialty games for anyone located inside state borders.
Harrington Online Casino Delaware Mobile App
Playing while on-the-go is easy as can be on the Harrington Online Casino Delaware app which will give you access to both their casino games AND their online poker room. You will also be able to create a new account and make banking transactions using this app, provided you are located in the state of Delaware. This means that you will have full access to this online casino and all of its features even if you do not have a personal computer at your disposal.
If you plan on using an Android device, you can download the app by visiting the Harrington Gaming website and then clicking on the "Download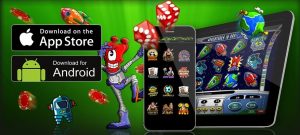 for Android" button at the bottom of their homepage. Those of you with an iOS device such as an iPhone or an iPad can obtain the app by simply visiting the App Store and searching for "Harrington Casino Online".
Promotions and Rewards
New Player Promotions
Just like many of the other online casinos of Delaware, Harrington offers a $10 no-deposit bonus for new players who simply create a new account. Once you have received this $10 bonus you will have 10 days to use it to test out some of the many games in the Harrington Online Casino Delaware collection. Before you can withdraw any of the winnings that you earn through this $10 bonus you must first clear the playthrough requirement by earning 2 status points for every dollar withdrawn.
In addition to the non-deposit bonus, Harrington Online Casino Delaware also gives their new players a chance to double their money right away with a 100% match deposit bonus for up to $100. For those of you who are not familiar with match deposit bonuses, this means that if you deposit $100 you will then have $200 in your account thanks to the free $100 in bonus funds. The only caveats are that you must deposit at least $20 and you will have 30 days to clear the playthrough requirement of 2 status points per every dollar or else your bonus funds will be forfeited.
Other Promotions
There is only one bonus promotion that is available here which is known as the Daily Offers promotion. This program gives each gambler a chance to claim a prize during any day of the week as long as you complete the requirements that usually involve depositing some funds. On Mondays you can claim 10% cashback on your losses for up to $50, on Tuesdays you can redeem a $10 free play voucher, on Wednesdays you will receive a 20% Euro Slots voucher for up to $100, on Thursdays you can have fun with 25 free spins, on Fridays you can try to hit it big with three $5 jackpot slot game vouchers, on Saturdays you can collect a 25% match deposit bonus for up to $50 and on Sunday blackjack enthusiasts can enjoy a $25 blackjack voucher.
Banking Options
Deposits
The three ways that you can deposit your money electronically onto Harrington Online Casino is via Visa Card, MasterCard, and ACH E-Check. If you were hoping to deposit using cash straight from your wallet you are out of luck here since there is no banking method that allows this to happen.
Every one of these deposit options will process your transaction in under 10 minutes so that you can start gambling as quickly as possible. Thanks to the Delaware State Lottery, you can be sure that your deposit will always reliably arrive in your account since this is a fully legal and regulated online casino.
Withdrawals
The two banking methods that will allow you to withdraw funds electronically from your account are ACH E-Check and Neteller. Unfortunately, no withdrawal option will allow you to pick up cold hard cash but this is normal for an online casino in the state of Delaware. Before you can use any of these withdrawal methods you will need to show proof of your bank account information, proof of your address, and your photo ID.
The time that it takes to receive your funds from the moment you order your withdrawal varies widely depending on which withdrawal option you use. Neteller will facilitate your transaction in less than three business days while an ACH E-Check will take less than eight business days. There should be zero concerns as far as receiving your withdrawal money is concerned since this is a legalized online gambling site that is not going to risk their hard-earned license just to steal a few dollars.