New Jersey has a longstanding history of setting trends when it comes to the United States brick and mortar casino industry, and the same is true when it comes to online casinos as well. Prior to 2013, online casinos were not legal in a majority of the United States, including New Jersey. Being that Federal Laws (specifically the Unlawful Internet Gambling Enforcement Act of 2006) made it almost impossible for gambling operators to offer their services in the United States, it seemed as though legal and regulated online casinos were nothing more than a nice thought.
With all of this being said, you might be surprised to know that there now exists plenty of online casinos in New Jersey, all of which have earned licenses from the state's Division of Gaming Enforcement. We will discuss how these sites came into existence as well as anything else you might want to know about New Jersey online casinos over the course of the following few sections.
History of New Jersey Online Casinos
Though efforts to legalize and regulate online casinos began around 2010, nothing of any major significance happened until 2013. Up until that point, legislation that would have sanctioned an intrastate network of online

casinos would have failed thanks to then-Governor Chris Christie's opposition. Chris Christie had long been a staunch protector brick and mortar casinos in New Jersey and felt as though online gaming should be taxed in a way that will not adversely impact the then-rebounding Atlantic City casino landscape. Once a bill reached his desk that showed online gambling revenues to be taxed at nearly twice the rate of physical gambling revenues, his approval was attained.
This approval came in early 2013, when a bit of progress was made in the form of New Jersey Assembly Bill 2578, which "authorizes internet gaming at Atlantic City casinos under certain circumstances." The bill was sponsored by seven state senators and representatives, including Ray Lesniak, who helped pave the way for legal online sports betting in New Jersey shortly before this piece of legislation was passed.
Licenses Granted and Sites Launched
Even though Federal Laws that were (and still are) in place at the time made the existence of legal and regulated casinos something that seemed impossible, New Jersey was able to get around them in a way. The major reason that the Garden State did not feel any resistance from Federal lawmakers was due to the fact that any and all gambling would take place strictly within the confines of the state of New Jersey.
The bill that paved the way for legal and regulated online casinos in New Jersey was signed on one of the first days of February, 2013. It took less than six months for the Division of Gaming Enforcement to begin handing out licenses to approved operators. Fast forward another five months and just before Thanksgiving 2013 the first seven online casinos went live.
The launch of online casinos in New Jersey was immediately successful, and as time moved forward more operators were added to the mix. Though the early stages saw revenues that met or exceeded expectations, everyone knew that things were just getting started. During the earliest days of 2014 and even into 2015, the mobile online casino options that existed were few, and those that did exist had limited game libraries available. As you could expect, that changed in a hurry and all operators on the market also boast mobile applications that match the quality of their traditional site.
Online Casinos in New Jersey Today
There are now in upwards of 20 New Jersey online casinos and that number seems to be growing all the time. For those who have any familiarity with the legal and regulated online casinos available in Europe and many other parts of the world, you will find that many of those same names have made their way into the New Jersey market as well. In addition to those familiar names, you will also encounter sites that you may not have heard of, or may not have heard of in the world of online casinos. Borgata, for example, is one of Atlantic City's premier casino resorts who has now also broken into the online market.
Any and all useful information regarding the online casino landscape will be discussed in a bit more detail below. The currently available listing of online casinos in New Jersey is as follows:
–888 Online Casino New Jersey
–Bet365 Online Casino New Jersey
–BetAmerica Online Casino New Jersey
-BetFair Online Casino New Jersey
-Borgata Online Casino New Jersey
-Caesars Online Casino New Jersey
–BetMGM Online Casino New Jersey
–SugarHouse Online Casino New Jersey
–PartyCasino Online Casino New Jersey
-Resorts Online Casino New Jersey
–Mohegan Sun Online Casino New Jersey
-Hard Rock Online Casino New Jersey
-Pala Online Casino New Jersey
–Scores Online Casino New Jersey
-UniBet Online Casino New Jersey
–DraftKings Online Casino New Jersey
-Harrahs Online Casino New Jersey
Online Casinos Anchored to Physical Locations
Apart from the fact that the New Jersey Division of Gaming Enforcement oversees all online gaming activity, there are other protections in place for players. One of the biggest of those protections is the fact that, by law, all online casinos operating in New Jersey must be anchored or tied to a physical gambling location, namely an Atlantic City casino.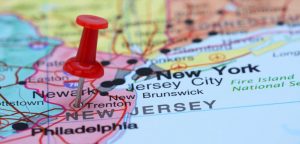 Because many of these sites, like 888 Casino, are based overseas, there is an inherent fear that they can disappear overnight along with player's money. Even though this is something that will more than likely never happen, player do not need to worry either way. Because all online casinos in New Jersey are anchored to a physical casino, that Atlantic City casino then becomes liable for the unscrupulous activity of the shady operator. It is undoubtedly nice that these sorts of protections exist, but seeing as all online casino operators in New Jersey are carefully and thoroughly vetted before being granted a license, we can confidently say that players needn't worry about the legitimacy of the sites on the New Jersey market.
Location Monitored by GPS
Another inherent aspect of online casinos and online gambling in New Jersey is that all sites and mobile applications are monitored by GPS tracking. While the idea of being tracked is disconcerting to some, the GPS feature exists solely to ensure that any and all wagers are placed from within the state of New Jersey. If this feature did not exist, bets might be able to be placed from states where online gambling is not legal, which would be a violation of Federal Law.
Commonly Used Banking Methods
One of our favorite parts of the legal and regulated online casino industry in New Jersey is the existence of a plethora of banking methods. Not only are there plenty of deposit and withdrawal methods, almost all of them are very easy to use. What's more, many methods of deposit also double as a withdrawal method, which makes life even easier.
In terms of making a deposit, the easiest way to do so is by way of a credit or debit card (including prepaid cards). While depositing this way is simple, it must be noted that credit/debit card depositors will have to seek out an alternate method when it comes time to withdraw funds.
Banking methods that support both withdrawals and deposits include ACH bank transfers, e-wallet transfers (think PayPal), and going to a physical casino. In New Jersey, almost every online casino allows you to both withdraw and deposit at their associated physical casino's cage. If you are in Atlantic City or live close enough, you can take cash right to the cage and deposit into your online casino account that way.
It is important to keep in mind that while there are a bunch of available deposit and withdrawal methods, not every online casino accepts every single method.
Mobile Online Casino Applications Available
It does not matter what New Jersey online casino you have chosen, nor does it matter whether you use an Android or Apple device, mobile online casino applications will be available. All New Jersey online casinos allow you to play games from any iOS or Android smartphone or tablet. In most cases the game selections and even the setup/organization of the site is the same on a mobile device as it is from a laptop or computer.
Live Dealer Online Casino Games
Another fun feature you will find at New Jersey online casinos is live dealer games, or online games that are live-streamed from a physical gambling location. Though live dealer games cannot be found at every online casino in the Garden State, they are slowly but surely becoming a standard offer.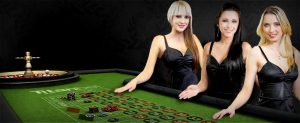 Live dealer games that are typically available include blackjack, roulette, and baccarat. Finally, it is important to note that some mobile online casinos even support live dealer play, so you are really never too far from the action.