Betfair is one of the most established gaming companies in all of Europe that now offers a US online casino for those who are located in the great state of New Jersey. They teamed up with the Golden Nugget casino in Atlantic City back in 2013 in an attempt to offer one of the most thrilling experiences that one can hope to find while being in this coastal state.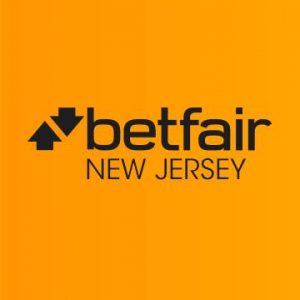 It is not a surprise at all to see that they are finding success in this market after dominating the European gambling scene in areas such as online poker, online bingo, sportsbooks, and online casinos. Throughout this review, we will examine what it is that makes them so unique and whether or not their online casino can keep up with their New Jersey competitors, of which there are many.
Game Selection at Betfair Online Casino New Jersey
Slots
This is by far the game type with the most titles which should surprise nobody since nearly every online casino is structured in this manner. However, what sets Betfair apart is that throughout their 236 slot game selection they have sprinkled in 13 different jackpot slots and 17 different slot games that are exclusive to Betfair only.
If you truly care about how many lines are played in the slot games you participate in then you have nothing to worry about here since Betfair organized their slot library as such. There are 16 different games that allow you to play anywhere from 1-10 lines at most while there are 29 slot games with 15-20 lines available and all of the rest have 25 lines or more.
Table Games
There are a total of 20 different table games available on Betfair which is more than enough to keep up with their New Jersey competition. On top of that, there are guaranteed to be four table games that you have never played before since they are exclusive to Betfair only and these games are named Roulette Royale, Pro Blackjack, EZ Baccarat, and Hi-Lo Solitaire. In case you didn't notice, these games are easy to locate thanks to the yellow "Betfair Exclusive" tag in the upper right-hand corner of the game icons.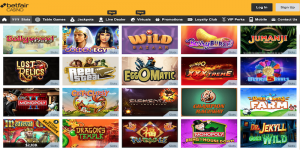 The two major components of a table games section are usually blackjack and roulette and Betfair appears to be aware of this fact since there are six different blackjack games and eight different roulette games. You will also be able to find a plethora of alternative table games to round out the selection such as Let It Ride and Casino Hold'em Poker.
Video Poker
Most online video poker selections in the state of New Jersey only offer Game King products which can become a bore after a while. Betfair obviously recognized this pattern and decided to break it by adding in four video poker games made by other software providers, including two that are exclusive to Betfair only!
All in all, there are a total of eleven video poker games listed in the video poker section which is slightly above average for a New Jersey online casino. No matter which one of these fine games you choose to play you should always play a betting limit that allows you to wager the full five credits per hand so that if you stumble upon a royal flush you will not cheat yourself out of winning more money.
Live Dealer Games
Betfair offers one of the most voluminous live dealer sections in all of New Jersey with a total of 13 different tables to virtually join. Most of these tables will spread the game of blackjack but you can also find other games such as Live Baccarat, Live Hold'em, Live Three Card Poker, and Live Roulette(2). None of these tables are open 24 hours a day but most of them are open for 18-20 hours per day which is not that big of a difference.
Most of the blackjack tables will allow you to bet a minimum of anywhere from $10 to $50 per hand with the maximum bet limit being a consistent $2,000 per hand. The other live dealer games will allow you to make a minimum wager of anywhere from $1 to $5 while the maximum bet limit has a very wide range from $250 per hand in Live Hold'em to $2,000 per hand in Live Baccarat.
Betfair Online Casino New Jersey Mobile App
Much like every other online casino in New Jersey, Betfair offers a comprehensive mobile app that allows you to gamble whenever you do not have access to your personal computer. As long as you have an iOS device that is version 6.1+ or an Android device that is version 2.1+ then you will be able to run the Betfair mobile app without any issues.
The games that you can play on this mobile app is slightly smaller than the list of games you would be able to choose from on a personal computer, but there are still 120 titles to choose from. However, the majority of these games are slot games since there are only five video poker games and two table games available.
Promotions and Rewards
New Player Promotions
Most online casinos in New Jersey offer a no-deposit bonus as well as a match deposit bonus for their new players, but Betfair decided to do things a little differently. Instead of the usual welcome bonuses, Betfair offers each player a chance to claim their losses back on their first day of gambling for up to $200. As you might expect, withdrawing these cashback funds will not be allowed but any winnings that are derived from the $200 in cashback are withdrawable as soon as you complete the playthrough requirement.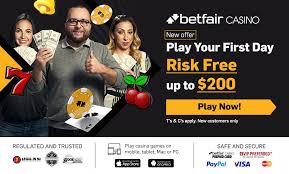 Speaking of playthrough requirements, the amount that you will have to wager to complete them depends entirely on what casino games you are participating in. If you happen to be playing in slot games then you will have to bet a total of 20 times the amount you received in cashback and if you are playing roulette you will have to wager 40 times the bonus amount. Any other game type not already mentioned will require you to bet a whopping 200 times the bonus amount. For example, if you lost $100 on your first day of playing on Betfair then you will need to make either $2,000 in slot wagers, $4,000 in roulette wagers, or $20,000 in wagers on other games before you can withdraw any of the cashback bonus funds.
Other Promotions
The other promotions available on Betfair include a Game of The Week promotion, a Refer-a-Friend promotion, and a rewards program that will appeal to anyone who plans on gambling a lot on this site. Even though this selection is small when compared to most other online casinos in New Jersey, it does not necessarily mean that it is inadequate.
The simplest promotion offered here is the Game of the Week bonus which gives $5 to anyone who wagers a total of $250 in one day on whatever game is announced as the game of the week. Even though this bonus amount is very small, you can take advantage of this promotion every single day which can potentially add up to $140-$155 bonus dollars per month.
The friend referral promotion has been recently revamped and gives players a chance to earn $100 in site credit for themselves AND $100 in site credit for the friend that they convinced to join. All you have to do is send them your personal referral link after which they will need to make an account, make a deposit and then make a wager of at least $10 within seven days of signing up. The crazy part about this lucrative promotion is that you can claim it up to 10 times for 10 different friends to earn a total of $1,000 in bonus funds for very minimal risk.
Last but not least, the Betfair VIP Club is available for everyone and assigns one of five VIP levels to each account depending on how much you gamble. The only way to move up in levels is to earn Tier Points which are rewarded differently depending on which game you play in. If you wager $1 on a slot game you will receive 5 Tier Points, if you wager $1 on a blackjack game you will receive just 1 Tier Point, and if you wager $1 on any other game not yet mentioned you will receive 3 Tier Points. Once you have earned 2.5 million Tier Points you will have reached the top VIP Platinum level where you can enjoy special VIP gifts, events, bonuses, a personalized host, and a redemption rate of 1000 Tier Points per dollar.
Banking Options
Deposits
Betfair has more deposit options than any other online casino in New Jersey and truly does a great job of giving their players some flexibility when it comes to funding their accounts. The nine different options that you have to choose from here are PayPal, Bank Wire, Visa Card, MasterCard, Online Bank Transfer, ACH E-Check, Betfair Casino Prepaid Card, PayNearMe and Cash at the Golden Nugget Casino cashier cage located in Atlantic City.
No matter which banking option you choose, you will have to deposit a minimum of $10 each time. You can also rest assured that every single one of these deposit options is extremely safe and your personal information is not at risk since this is a legal and regulated online casino. The only deposit method that comes with a fee attached is the Bank Wire transfer method but this fee is waived if you deposit at least $100.
Withdrawals
The various banking methods that you can use to withdraw your earnings on Betfair are PayPal, ACH E-check, Betfair Casino Prepaid Card, check by mail, and cash at the Golden Nugget Casino cashier cage. This is a well-balanced list of options that allows you to withdraw money electronically, in person, or via the US mail system. The Betfair Casino Prepaid Card is unique because you will be able to use it to claim your money at any ATM that is on the PULSE or NYCE network.
The fastest withdrawal method available here is the cash at the Golden Nugget cashier cage option, assuming you do not live very far away from Atlantic City. These Golden Nugget cash withdrawals will be processed in under two days while all other banking options will be processed within 3-5 business days. The slowest option is by far the check by mail withdrawal method which will take a minimum of five days to reach you assuming that it doesn't get lost in the mail so we recommend avoiding these checks unless you absolutely cannot use any other withdrawal method.