Online gambling became legal in the state of Pennsylvania in October of 2017. At the time, Pennsylvania was only the fourth state to legalize online gambling and the industry has grown significantly since.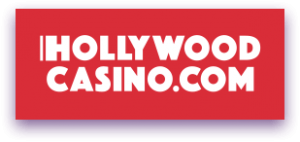 Hollywood Online Casino PA was one of the first online casinos available within the state, and it includes a variety of games that you would find at any brick and mortar casino. Hollywood Online Casino officially launched on July 15, 2019. Players can rest assured that Hollywood Online Casino is both reliable and trustworthy, as it is backed by more than 25 years of gaming experience. The company originally launched in 1993 as Hollywood Casino Corp. Since then, the company was acquired by industry leader Penn National Gaming, based out of Wyomissing, Pennsylvania. Now, Hollywood Online Casino provides gaming opportunities to anyone within the state of Pennsylvania who is over the age of 21.
In this review we aim to see whether Hollywood Online Casino lives up to its years of experience as well as the reputation of its ownership or if it falls short of those expectations.
Game Selection at Hollywood Online Casino PA
The game selection at Hollywood Online Casino is organized under four tabs on their home page, while also offering convenient searching and sorting features to help players find exactly what they are looking for. For anyone who knows exactly what they want to play, the search function provides a direct route to the action; simply type in the title of your game of choice and hit enter. The filter function also allows players to sort games by default, featured, alphabetically a-z, or alphabetically z-a.
Under the "ALL" tab, players will find a variety of slots and table games, generally organized with the most popular games at the top of the page; the same could be said about the "TABLE," "FEATURED," and "SLOTS" tabs. Overall, the game selection may not seem as extensive as other online casinos.
Slots
The slot selection at Hollywood Online Casio includes a number of popular online slot offerings, as well as some enticing featured slots. In total, the site offers 79 different options for anyone interested in playing slots.
Considering the fact that Hollywood Online Casino is a byproduct of a brick and mortar casino, players would expect there to be a more extensive offering for slots. 79 different games are certainly plenty for your average player to choose from, but the number pales in comparison to other online casinos who offer hundreds of different slots and thus, it seems that Hollywood Online Casino falls short of expectations in terms of slots offered.
Table Games
Hollywood Online Casino offers all of the essential table games that you would expect to find at a brick and mortar casino. Players can enjoy blackjack, poker, roulette, and baccarat. There are two different offerings for blackjack, as well as multiple options for roulette, including French, American, and European roulette. In total, Hollywood Casino Online offers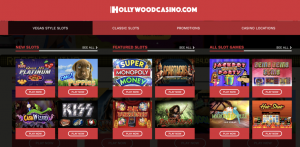 four different table games, but nine different games when taking into account the variations of each game type.
While nine games may seem like an acceptable offering, it's important to note that many of these games are the same type with slightly altered rules and visuals. Anyone who is interested in a wider variety of table games, such as faro, craps, or sic bo, would have to turn elsewhere for their gaming needs. In terms of table games, Hollywood Online Casino's offerings are sufficient, but the absence of craps is a glaring one, especially for such a reputable casino.
Video Poker
Hollywood Online Casino uses Game King Video Poker, a reputable and reliable video poker operator for online casinos. Game King Video Poker is a product of IGT games, one of the industry's leading casino gaming technology companies.
Video poker is listed under Hollywood Online Casino's "Table Games," whereas most sites would list it as its own selection, given the fact that "video" negates the "table" aspect. Under this selection players will find the following offerings: jacks or better, bonus poker, bonus poker deluxe, double bonus poker, double double bonus poker, triple double bonus poker, deuces wild poker, deuces wild bonus poker, and joker poker. These options give players plenty to choose from when it comes to playing video poker online and should be more than enough to meet most players' needs.
Specialty Games
Some online casinos may offer specialty games, such as war, keno, and lotto (scratch card games). There are no specialty game offerings at Hollywood Online Casino, but again this could change as more games are added to the site over time.
Hollywood Online Casino PA Mobile App
The Hollywood Casino Pennsylvania App is available for both Apple and Android devices. The app can be found in Apple's App Store, but Android users will have to download the app via their phone's web browser, as the Google Play Store does not feature any gambling apps. Location services must be enabled on any mobile device operating the app in order to ensure that players are playing in the state of Pennsylvania.
While the mobile app has a layout and display that is similar to the site, there are still some key differences. One of the most important things to note is the fact that the game selection is significantly less; for example, the slot offerings are about half of what the site offers. The table games are no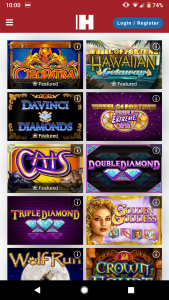 different, listing only blackjack, baccarat, and video poker.
In addition to the limited number of games offered, the mobile app falls short in providing players with a seamless gaming experience. Many users have consistent issues with the app's location services, making it difficult or even glitchy whenever they are trying to play a game.
Promotions and Rewards
There are a number of enticing promotions and rewards programs for players who frequent Hollywood Online Casino, most of which cater to new players or players who help build the casino's player base. First and foremost, Hollywood Online Casino extends the offer of their Mychoice rewards program from their brick and mortar location to their online customers. This makes it easy for players to link their rewards cards from their existing account. Mychoice rewards allows players to earn points and rewards for playing any of their online casino games. This provides a convenient way of bridging the gap for players who may traditionally place their wagers in-person to now try their hand at the online casino. Hollywood Online Casino also offers promotions for a welcome bonus, signup bonus, and a bonus for inviting new players.
Using the code "WELCOME" players can participate in Hollywood Online Casino's welcome bonus, which will allow them to earn a bonus that matches their first deposit. Under this offer, a player's first deposit must be a minimum of $10 (maximum of $500) and that player must then wager 20 times that deposit in the next 60 days. For example, if a player deposits $400 as their first deposit, they must then wager $8,000 in the next 60 days in order to receive their welcome bonus of $400 in site credit. This offer can only be applied if the player meets the deposit requirements for their first deposit.
Hollywood Online Casino's signup bonus is significantly simpler than their welcome bonus; all newly registered players automatically qualify for the signup bonus whenever they create their account. After registering their account through HollywoodCasino.com, players will receive $25 in bonus credits, which will be automatically applied to their account.
Like the signup bonus, the invite a friend promotion also gives players the opportunity to earn $25 in bonus credits. After creating an account, players can use the invite a friend function to refer new players. In order to qualify for the $25 in site credit, a new player must create an account using an existing players referral link. The new player must then deposit at least $50 in a single deposit and wager a total of $50 within 60 days of registering. If the referred player meets these requirements, then the player who referred them will qualify for this promotion.
Banking
Making deposits and withdrawals with Hollywood Online Casino is a straightforward process that most players will be familiar with. Processing of transactions can take up to five business days, but transaction methods are reliable and trustworthy. Keep in mind that all transactions must be made in U.S. dollars, as this is an online casino for the state of Pennsylvania.
Hollywood Online Casino offers a variety of standard banking methods for players to make deposits. Any online or mobile deposits can be made with Visa or MasterCard credit or debit cards. Online or mobile deposits are also accepted via ACH e-checks. Players also have the option of depositing via PayNearMe services. Through PayNearMe, players must travel to their nearest 7-Eleven convenience store and deposit cash into their account directly via the store's cashier. The final option for depositing is through a verified pre-paid account card for Hollywood Casino.
In terms of withdrawals, the options are similar. Players can withdraw via ACH e-check, through their pre-paid account card, or through a request for a check made payable to the account holder.