BetRivers Online Sportsbook is a gambling site that is owned by Rush Street Gaming based out of Chicago. They are the sister site of another popular online sports betting site named SugarHouse Sportsbook that operates in both New Jersey and Pennsylvania. BetRivers Online Sportsbook also operates in those two states as well as Indiana, Colorado, Iowa, and Illinois.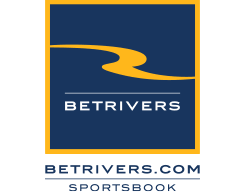 In 2020, the BetRivers Sportsbook began offering their services to anyone located in the state of Illinois making it the most recent site that they have launched. With so much industry experience, it can be expected that Rush Street Gaming created a high-quality product that is on par with the rest of its Illinois competition. However, the only way to know this for sure is to investigate all of the various features that they have to offer so you can make an informed decision for yourself, which is exactly what this review intends to do.
Sports, Leagues, and Betting Markets Available
There are 15 different betting markets to choose from at BetRivers Online Sportsbook which is an average amount for a regulated site in the US. The only popular markets they are not offering are table tennis and E-sports. One of the betting markets they offer that is not normally found elsewhere is cycling. The following list represents all of the betting markets found here:
• American Football
• Australian Rules Football
• Baseball
• Basketball
• Boxing
• Cricket
• Cycling
• Darts
• Golf
• Hockey
• MMA
• Motor Racing
• Rugby
• Soccer
• Tennis
This wide variety of betting markets also means that there is a large variety of betting leagues to choose from. Most of the markets listed above offer between two to five leagues that you can place wager on. The two exceptions are basketball which seven different leagues and soccer that offers a whopping 69 different leagues around the world to wager on.
Live Betting
BetRivers Online Sportsbook offers live betting action for every market so that bettors who missed the start of any contest can still get in on the fun. To access the live betting lobby you just have to click on the "Live" option at the top of the sportsbook's main lobby.
Once you have entered the live betting lobby, you will see all of the events that are currently running listed in the middle of the page. These events will be organized by the betting market they belong to and all of the relevant betting odds will be listed next to each option. If you wish to see additional bets that can be made such as prop bets then you can click on the "More Bets" link next to each event.
Live Streaming and Play-by-Play
Most players who wager on an event like to watch it in action so they can increase their excitement level and get the maximum amount of entertainment from risking their money. BetRivers Online Sportsbook Illinois clearly recognizes this to be true since they offer live streaming footage for many of the live bets that they offer. To access this live streaming feature you simply need to click on the "Stream" option at the top of the main lobby and then select an event you want to watch.
Mobile Betting
The mobile app for BetRivers Online Sportsbook Illinois is free and easy to download as long as you have an iOS or Android device. With this app, you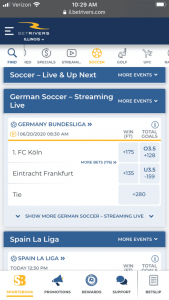 will be able to make a new account, facilitate banking transactions, or place bets in the sportsbook. However, you will need to be located within the state borders of Illinois to place any bets.
To download the 27 MB app with an iOS device, simply search for "BetRivers Sportsbook Illinois" in the App Store and click the download button. To download the 11 MB app using an Android device, simply navigate to the bottom of the BetRivers Sportsbook's main lobby and click on the "Get it for Android" button.
Odds Boosts
Odds Boosts are a promotion that increases the payout odds from what they normally would be so that a winning wager will receive more money if a victory occurs. This special promotion can be applied to many types of bets such as props, parlays, moneylines, and spreads. You will be able to find an odds boost bet offered daily on BetRivers Online Sportsbook Illinois and they will usually apply to one of the biggest events that is happening that day.
Welcome Bonus and Other Promotions
Welcome Bonus
New players at BetRivers Online Sportsbook Illinois can claim a 100% match deposit bonus for up to $250 using the bonus code "250MATCH". For instance, if you deposit $250 you will receive an extra $250 in your account but if you deposit $500 you will still receive just $250 in bonus funds.
The minimum deposit limit for the welcome bonus is set at $10. All bonus money must be wagered within 30 days or it will be forfeited. You can only wager the bonus funds on events that have odds of -200 or greater.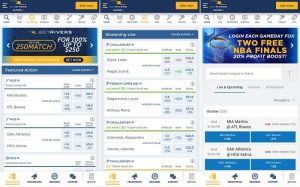 The playthrough requirement for the welcome bonus (and every other bonus offered by BetRivers) is set at 1x the bonus amount which is the easiest requirement you will find on the internet. For example, if you deposit $250 and receive $250 in bonus funds then you will need to wager that $250 in bonus funds one time before you can make a withdrawal.
Other Bonuses
BetRivers Online Sportsbook Illinois offers a number of promotions that change on a weekly basis. Many of these weekly offers are profit boosts that will reward bettors with extra money if they happen to win their wager. It would be impossible for us to get too specific on these weekly promotions since they change so often but their presence makes the promotions program much more exciting overall.
Every NFL season, there is a $100,000 Pick'Em contest which requires each person to pick the winner of every NFL game. The player who picks the most winners each year will win $50,000 in bonus funds and the top 50 scores will get paid. In addition, the participants who pick the most winning teams each week will split the $1,000 weekly prize. Any bonus money that is won from this promotion must be used within 30 days or else it will be forfeited.
The best part of the BetRivers Online Sportsbook promotions program is without a doubt their iRush Reward loyalty program. This program allows bettors to increase their Loyalty Level by wagering more often which in turn makes them eligible for various prizes and additional benefits. The best way to move up through the ranks quickly is to make parlays with a lot of legs since a one-leg parlay will give one Reward Point for every $6.00 wagered while a ten-team parlay will give one Reward Point for every $0.50 wagered. Players who manage to reach the highest levels of this VIP program will enjoy perks such as a personal VIP host, expedited withdrawals, a free mobile device, BetRivers swag items, invitations to exclusive VIP events, and more.
Banking Options
There is no shortage of banking options you can use to move money to and from your account on BetRivers Online Sportsbook Illinois. Opening the cashier page for your account will reveal that there are eight different ways to deposit funds and five different withdrawal methods. The sections below will describe what you can expect from each one of these options.
Credit and Debit Cards: If you have a bank account then the simplest way to electronically deposit funds into your account is by using a credit or debit card. The three cards that are accepted here include Visa Card, MasterCard, and Discover Card. You will not be able to use these cards to make a withdrawal. Any deposits using these cards may incur a small fee depending on which bank you use and the minimum deposit limit is set at $10.
BetRivers Play+ Cards: A great way to guarantee fast withdrawal times is to sign up for a BetRiver Play+ card. Once it arrives in the mail, you can use your debit or credit card to load it with funds and make a deposit into your BetRivers account. After you have made a deposit you will then be able to make a withdrawal anytime you want in less than 24 hours. These cards can also be used at any NYCE or PULSE ATM machine, which is a convenience that other banking options do not offer.
ACH (E-Check): Another alternative banking option for those who have a bank account is to use ACH E-Check. The advantage of using this method over the debit card and credit cards is that you will also be able to make withdrawals. The average withdrawal time will usually be less than one week.
Online Bank Transfer: If you do not want to use a bank card or ACH E-Check to deposit funds using your bank account then a third option is to use the Online Bank Transfer method. This option is a bit restrictive because only certain banks such as Wells Fargo and Bank of America are compatible with it and you also cannot make withdrawals using this method.
PayPal: This popular e-wallet represents the fourth banking option that allows you to deposit funds using your bank account. Before you can do this, you will need to link your bank account with your PayPal wallet. PayPal can also be used to withdraw funds in under a week but you will not be able to make a withdrawal to any PayPal account until you first make a deposit using that same account.
Checks: You cannot deposit money by mailing a check to BetRivers but you will be able to order a check by mail withdrawal. This should be the last withdrawal option that you consider since it is by far the slowest withdrawal option and also requires you to drive to the bank to cash it in. There is no advantage to using this option whatsoever.
Cash at Cashier Cage: Anyone wishing to deposit using cash from their wallet can do so by visiting the cashier cage at the Rivers Casino located in Des Plaines, Illinois. You will also be able to withdraw funds in cash from this location within 24 hours of requesting it. While it may require more effort to drive to the casino instead of completing transactions electronically, the main advantage of using the cashier cage at Rivers Casino is that there are no minimum or maximum limits on deposit or withdrawals.