For years, the Professional and Amateur Sports Protection Act of 1992 banned sports betting in most of the United States. That is, until the Supreme Court lifted the ban in 2018. Since then, states have been working on rolling out their own sports betting legislation, launching an industry that has since grown tremendously. A number of states have chosen to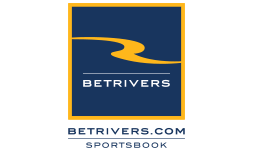 implement sports betting at brick-and-mortar locations, as well as online sportsbooks. Pennsylvania is a state who has embraced both options.
Evidence of this recent gambling expansion can be found at both Rivers Casino locations, found in Philadelphia and Pittsburgh. The two locations boast strong track records and reputations and have recently been united under the same ownership to offer both brick-and-mortar and online sportsbook options. In the following sections, we take a closer look at the BetRivers online sportsbook in Pennsylvania to see how it compares to other sportsbooks in the state.
Company Background and Licensing
Both Rivers casinos are united under the ownership of Rush Street Gaming. The management of Rush Street Gaming at Rivers brick-and-mortar and online sportsbooks ensures that the lines offered are licensed and regulated by the Pennsylvania Gaming Control Board. Anyone interested in registering a BetRivers account can rest assured that their wagers will be placed with a reliable institution.
Rivers Casino Pittsburgh first opened in 2008 under the name Majestic Star Pittsburgh, while Rivers Philadelphia first opened as SugarHouse Casino in 2010. Rivers Pittsburgh first tested sports betting at its brick-and-mortar location in December of 2018; they officially launched online sports betting in June of 2019. SugarHouse Casino also began accepting bets in December of 2018; at this time, they were the first casino to offer sports betting in the Philadelphia area. Proving to be a pioneer in sports betting once more, SugarHouse became the first casino to offer online sports betting in the state in May 2019.
Rivers Pittsburgh and Rivers Philadelphia technically have two separate online sportsbooks: BetRivers.com and PlaySugarHouse.com. It appears, however, that the two sites are identical and that the difference in domain may be a due to the fact that SugarHouse casino already had an online presence before being acquired by Rush Street Gaming. The unification of these two pioneers under the same brand certainly bodes well for the potential of their online sportsbook.
Sports, Leagues, and Betting Markets Available
Upon visiting BetRivers sportsbook, players will undoubtedly notice that Rivers is first and foremost a casino. Even on the sportsbook, evidence of this is present through banner ads and the "Newsfeed" banner located on the right-hand side of the page, displaying the current streaks for their online casino slot players. The bombardment of casino advertising may detract from the primary function of the sportsbook and can feel a bit clunky for anyone who is trying to jump right into the action without the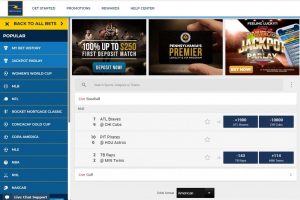 distraction of the Rivers online casino.
If you can look past the casino distractions, BetRivers sportsbook does offer a wide range of available sports betting options for players to take advantage of. BetRivers sportsbook offers wagering options for the following contests:
-Basketball
-Boxing
-Tennis
-Soccer
-Football
-Hockey
-UFC/MMA
-Australian Rules Football
-Baseball
-Cricket
-Cycling
-Darts
-Golf
-Handball
-Rugby League
-Snooker
Front and center, BetRivers sportsbook offers a search function that helps counter the somewhat confusing casino advertisements. The search app allows you to search your favorite sport, league, or team to help streamline your betting experience. Beneath the search function, players will find the most popular lines for current sporting events. These contests do focus primarily on events that are popular within the United States, considering the sportsbook is only serving players in the state of PA.
The left-hand side of the site lists all other sports and covers a wide range of international contests, including soccer leagues, cricket, handball, and other popular sports from around the globe. On the whole, BetRivers sportsbook does a good job of giving players access to lines for just about any sporting event they can imagine.
Live Betting
Towards the top of the left-hand banner, players will notice a "Streaming Live" section of BetRivers sportsbook. Clicking the link will take players to a page filled with streamable matches that they can place live wagers on. This is a great feature for anyone who enjoys an array of live betting options that they can watch in real time. Keep in mind, not all contests are available for streaming due to broadcasting rights, and it may be difficult to find links streaming some of the most popular sporting events. In any case, the capability of streaming is certainly a nice feature for BetRivers.
In regard to other live betting options at BetRivers, players will be pleased to see that their live lines are just as extensive as their pre-match options. BetRivers continues to offer extensive betting options for all live contests.
Mobile Betting
A close look at the available mobile options for BetRivers sportsbook reveals once again that the primary focus is clearly on their casino. At the time, it appears that the mobile app is only available Android devices, despite the fact that a casino app exists for both the Philadelphia and Pittsburgh casinos for both iOS and Android devices. This is extremely disappointing given the fact that the majority of wagers placed on sports are done so through mobile devices. Almost every competing sportsbook throughout the state offers a mobile app for both iOS and Android, giving players easy access to the action, wherever they are.
In order to download the app for your Android cell phone or tablet you must visit the BetRivers sportsbook website via your device's web browser. At this time the Google Play Store does not offer any gambling apps on their market, but the app can easily be downloaded by clicking the link via the BetRivers site. The Android app does a good job of offering seamless access to all the action available on the site.
Players using iOS devices can use their mobile web browser to access BetRivers sportsbook site. The BetRivers Pittsburgh mobile casino app does have a link for the sportsbook but clicking it will simply open up your web browser. BetRivers has stated in the support section of their site that iOS device support is on the horizon, but currently the lack of a quality app for all devices is certainly a glaring concern for anyone interested in creating an account to have access to their sportsbook on the go.
Jackpot Parlays and other Odds Boosts
Jackpot Parlays are a betting option that appears to be exclusive to BetRivers sportsbook. Jackpot Parlay allows players to place parlay bets using a quick pick system that operates similarly to the PA State lottery. Essentially this feature gives players the option of combining up to 8 generated picks at steep odds to parlay them for a large payout. While the likelihood of these bets hitting is slim, it certainly offers a fun and enticing option for anyone interested in placing a wager. If you are interested in doing so, the Jackpot Parlay offer does allow you to choose sports you want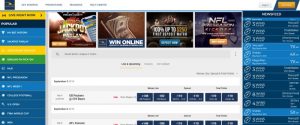 to bet on, chose the number of bets you want in the parlay, and change the amount you want to bet.
While BetRivers does not have a clear "Odds Boost" section, it does appear that they list some wagers at boosted odds in the menu on the left-hand side of their site. Similar to FanDuel and other sportsbook odds boost, these wagers can be traditional money line wagers, prop bets, or even parlays. An example would be:
Tampa Bay Buccaneers to win the Super Bowl +2000 +5000.
Welcome Bonus and Other Promotions
Anyone who has frequented various sportsbooks in the state of PA would expect an array of bonuses and promotions, especially for new players. Popular sportsbooks like FanDuel, DraftKings, and Unibet offer a variety of promotions, such as refer a friend, risk-free bet, or first-deposit match. In terms of promotional offerings, BetRivers falls a bit short of these expectations. It is possible that BetRivers could add to their selection of promotional offers, but for the time being these options are limited to their rewards program and their deposit match bonus.
BetRivers sportsbook allows players to sign up for their iRush Rewards program. Any players who have already signed up for iRush Rewards through one of Rivers' brick-and-mortar locations can link their account and begin earning rewards through the online sportsbook. Whenever a player places a real money wager, they will be earning both Loyalty Level Points and Bonus Store Points. As players increase their Loyalty Level, they will begin unlocking different tiers of awards that they can purchase through the Bonus Store. This may be a nice option for any players who have already established a rewards program at Rivers casino.
Like many other sportsbooks in the state of PA, BetRivers offers an enticing deposit match bonus for new players. Anyone who creates a BetRivers account can enter the promotion code "250MATCH" and will have their first deposit matched up to $250, after they have bet through this deposited amount. This promotion does have a 1x play through requirement for bonus funds as well. In other words, if a player deposits $50, BetRivers will give that player an additional $50 in their account once they have made $50 in bets on odds longer than -200. Any bonus money awarded must also be used in 30 days or it will expire.
Banking Options
BetRivers sportsbook offers a wide array of deposit and withdrawal options for its registered users. If there is any aspect of the depositing and withdrawing process that is going to leave players wanting it may be the absence of PayPal as an option for depositing. The process of transferring funds through the various methods can take up to several days, as is the case with many sportsbook and online casinos. These issues are generally resolved within three days. The following banking options are available at BetRivers sportsbook:
Credit/Debit Cards: Perhaps the most straightforward option for banking with BetRivers; simply provide your card information to begin depositing and placing bets.
Cash at Cage: To deposit via this method, players must visit one of the brick-and-mortar locations to physically pay cash to deposit into their account. To use this method players must have their government issued photo ID and may need to provide their e-mail address or account screen name. This method makes funds immediately available.
PayNearMe: This option requires players to sign into their account and print a generated barcode to be scanned at the nearest 7-Eleven convenience store. Once their barcode is scanned by the cashier you can deposit up to $500 ($10 minimum) in cash per day. The funds deposited should be available within 20 minutes.
Online Banking (ACH): Through this method players can transfer directly from their bank account without entering detailed account information. Players can simply provide their online banking username and password and enable Online Bill Pay.
BetRivers Play + Card: This card acts as a preloaded card with which funds can be added from your credit/debit card, or bank account. This card gives players faster access to withdrawals and can be used everywhere Discover is accepted. Any player with an account is eligible to sign up for this card and after applying will receive a physical card within 10-14 business days.