In the United States, the DraftKings brand has been known since 2012 as a leader in the Daily Fantasy Sports sector. Though DFS competitions are what got the company started, they have since transitioned to offering online sportsbooks in states where they are legal, including Pennsylvania. Thanks to the Supreme Court overturning the 1992 Professional and Amateur Sports Protection Act in the spring of 2018, Pennsylvania was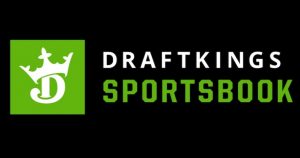 immediately able to offer legal sports betting online thanks to a law that had previously been passed.
The following few sections will discuss everything there is to know about DraftKings' Pennsylvania sportsbook, which is available online and for both iOS and Android mobile devices.
Company Background and Licensing
Founded in 2012 in Boston, Massachusetts, DraftKings was immediately offering a sports betting product, however it came in the form of Daily Fantasy Sports competitions, not traditional sports betting. Through the first six or so years, DraftKings became an increasingly well-known brand thanks, in part, to advertising on major television networks and partnerships with major sports leagues like the National Hockey League and Major League Baseball. In 2018, DraftKings entered the New Jersey legal sportsbook market and there was no looking back. Soon after online sportsbooks launched in the Garden State, Pennsylvania followed suit with a legal and regulated market of their own.
Though the first online sportsbooks in Pennsylvania launched in the late Spring/early Summer of 2019, DraftKings did not enter the market until closer to the end of the year, in November. Thanks to Pennsylvania's sports betting laws requiring that all online and mobile sportsbook operators be linked to a physical, brick and mortar sportsbook, DraftKings has partnered with The Meadows Racetrack, Casino, and Sportsbook, located in Washington, PA. As with all legal sportsbooks in PA, DraftKings is regulated by the Pennsylvania Gaming Control Board.
Account Creation and Registration
Creating an account at DraftKings Pennsylvania sportsbook takes only a matter of minutes and can be done from either a computer or mobile device. You will need to supply personal information in order to ensure that you are at least 21 years of age (the age for legal gambling in PA), usually in the form of a government-issued ID or the last four digits of a social security number.
Something else worth noting is that Pennsylvania law requires that all DraftKings sportsbook bets be placed from within the state. As such, location services must be turned on at all times, otherwise you will be unable to wager.
Sports, Leagues, and Betting Markets Available
If we are being honest, the layout of DraftKings Pennsylvania online sportsbook leaves a lot to be desired. When you first enter the sportsbook, you are greeted with live, in-game betting options front and center, with what seems like a random assortment of leagues listed across the top banner. Upon further inspection, the leagues listed across the top are those that feature upcoming competitions/events. For example, on Tuesdays and Wednesdays during the early spring, you can expect competitions like UEFA Champions League and college basketball to be listed across the top. To find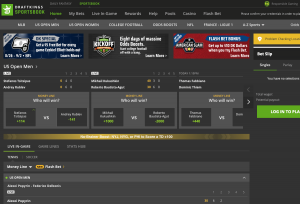 a full listing of the available sports betting markets, you need to move all the way to the left under the "A-Z Sports" drop-down. The following is a full listing of the sports available for betting:
-Australian Rules (Football)
-Baseball
-Basketball
-Boxing
-Cricket
-Cycling
-Darts
-Football
-Golf
-Hockey
-MMA
-Motorsports
-Rugby (League and Union)
-Soccer
-Tennis
In many respects, the sports slate at DraftKings PA is in line with what you will find at other PA sportsbooks like SugarHouse or FanDuel. If you are going to use DraftKings to bet on classically American sports like basketball, baseball, and football, you should have absolutely no worries when it comes to the number of betting markets available. In fact, leagues like the NFL, NHL, MLB, NBA, NCAA (basketball and football), and even MLS are covered as completely as possible. For basketball, betting markets are broken down into different sections, including "Game Lines," "Player Props," "Halves," "Quarters," "Game Props," and "Team Props." Within each of these individual markets for a single game you will find a number of different individual betting options. What's more, the "Game Parlays" section allows you to bet on simple parlays such as a "Game Line/Total Points Parlay" or "Point Spread/Total Points Parlay." In terms of the aforementioned major US leagues, you will almost certainly be able to place your desired bets.
The only sports where we were somewhat disappointed with the offering was soccer. While DraftKings offers betting markets for leagues from essentially every European country, their offering is a bit disappointing when the focus turns to Asia, Africa, Central America, and South America. Though Argentina and Brazil's leagues are featured, you will not find any betting options for leagues from Honduras, Bolivia, Guatemala, Venezuela, or Colombia. In Africa, the extremely popular Egyptian Premier League is completely and totally neglected. Overall, the soccer selection at DraftKings should satisfy most bettors, but if you fancy yourself a hardcore soccer bettor that is not only concerned with Europe, there are better sportsbook options in Pennsylvania. This is especially true as it relates to live betting.
Live Betting
Live betting for any US-based sport or league tends to be nearly flawless at DraftKings. Not only are there plenty of options, your bets go through with little to no issues, even when a game is in the midst of open play. As far as selection goes, any and all NHL, MLB, NFL, MLS, and NBA games will boast live betting markets. With regard to college football and basketball the story is more or less the same, however some smaller schools from lesser-known conferences may not always be featured.
Yet again, our complaint relating to live betting at DraftKings has everything to do with the soccer options available. Even if DraftKings offers a fair number of pre-match betting options, their in-game soccer betting is downright abysmal. Not only does DraftKings often neglect to offer live betting for games from the world's biggest leagues (France's Ligue 1, Portugal's Primeira Liga, and Germany's Bundesliga to name a few), the live betting they do offer could not be described as anything other than obscure. Leagues from Gibraltar and Bosnia and Herzegovina will be available for live betting, but matches from some of Europe's bigger leagues are neglected entirely. The most interesting example of this is that Italy's Serie B (the second division) is a regular fixture in the live betting portal, however the top division, Serie A, is not.
Mobile Betting
As was mentioned in the opening, mobile DraftKings sportsbook applications exist for both Android and iOS devices. iOS users are able to download the sportsbook directly from the App Store, while Android users must visit DraftKings' site in order to initiate a download. The look and feel of DraftKings' mobile applications is not too different from the site, with the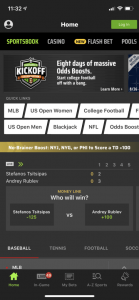 lone exception being that we think the mobile app's organization is a bit more sensible than what you will find on the traditional sportsbook site.
As far as functionality goes, there is nothing you can't do on the mobile sportsbook that you can do on the desktop site. This includes deposits/withdrawals, live betting, and even account registration.
Odds Boosts
The Odds Boosts at DraftKings PA online sportsbook are almost identical to the ones you will find at FanDuel. In essence, these are special parlay-style bets that combine individual outcomes into a single wager with odds that are superior to what they would be if you had wagered on all individual events separately. Below, you will find an example of an Odds Boost wager you might find at DraftKings:
Kansas to win the Big 12 Conference Championship & Duke to win the ACC Conference Championship: +565 +615
As you can see from the above example, your odds are quite literally boosted in a way that increases your potential payout. Not all Odds Boosts are parlays, but many of them are. No matter what, the Odds Boosts are a fun way to receive better odds on what are often fun and interesting wagers.
Welcome Bonus and Other Promotions
For bettors who have just created an account and are looking for a sign up or first deposit bonus, both exist. The site's official sign-up offer is a risk free bet worth up to $500. Simply, the offer works on the first wager placed after your account has been created. If you make a $200 bet and it loses, you will be credited another free bet play worth $200.
The first deposit bonus available for new players is 20% match worth up to $500. This means that if your first deposit was for $200, you will receive an additional $40 from DraftKings added to your balance. With that being said, the bonus funds received carry a 25x playthrough requirement that must be satisfied within 90 days of the initial deposit being made.
DraftKings also offers free events like a NCAA Basketball March Madness Bracket Battle that is free to enter and boasts a five-figure prize pool. There are a number of similar events, usually coinciding with major US sporting events like the NCAA Tournament, Super Bowl, or World Series, to name a few.
Banking Options
Funding an account and subsequently withdrawing winnings from DraftKings is quite simple and there are numerous ways to do both. In fact, many of the available deposit options also support withdrawals. The following will discuss the different banking methods, whether they support deposits, withdrawals, or both, and any other relevant information you might need:
Credit/Debit Cards: Credit and debit cards from most major banks are accepted by DraftKings for deposits, however many players experience issues when trying to make a deposit due to the rules and regulations of these banks, which often restrict transactions with gambling companies. On top of all of this, debit and credit cards are the lone banking method that only supports deposits.
E-Wallets: E-wallets PayPal and Skrill are accepted forms of banking, however you are only able to deposit with Skrill, while PayPal facilitates both deposits and withdrawals. With that being said, you are only able to withdraw via PayPal so long as you have previously made a PayPal deposit.
Online Banking: Online banking utilizes the bill pay function of your online bank account in order to fund a DraftKings PA sportsbook account.
ACH/Wire Transfers can be used as both a method of deposit and withdrawal.
Play+ Prepaid Card: The Play+ Prepaid card is an alternative to credit/debit cards as a means of adding funds to a sportsbook account.