888 Online sportsbook New Jersey is one of the most-trusted names operating in the state because, amongst many other things, it has a track record and company history that dwarfs those of most others. As far as what their sportsbook has to offer, the simple answer is that 888 brings more to the table than many other New Jersey online sportsbooks.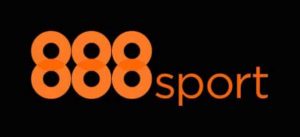 The following few sections will introduce you to this particular sportsbook and everything else a prospective bettor might want to know. Including what separates it from the rest of the online sportsbooks in New Jersey.
Company Background and Licensing Information
888 Online sportsbook New Jersey is owned by parent company 888 Holdings, which is based in the tiny nation of Gibraltar, an English-owned strip of land on the southernmost part of the Iberian Peninsula. 888 was founded back in the mid-1990s and has been offering sports betting, casino games, horserace betting, and bingo games for real money online ever since the internet first made its way into everyday households. Nowadays, you will see 888 advertisements all over Europe, especially in the soccer world, because the company has expanded to serve many countries in Europe and beyond. With all of this being said, those who wish to use the 888 online sportsbook in New Jersey can rest-assured that they are dealing with a wholly legitimate site that has a track record that is as long as that of any online sportsbook around the world.
Due to New Jersey state law, which requires all licensed and regulated casinos to be anchored to a physical sportsbook and/or casino, 888 sportsbook has partnered with Caesars Entertainment, which owns properties in Atlantic City.
Sports, Leagues, and Betting Markets Available
Like most of New Jersey's sportsbooks, 888 puts much of its focus on leagues and sports that are popular in the United States. Being that the company originated in Europe one might be led to believe that 888's focus will be more of a global one, but the fact of the matter is that sports like basketball, hockey, and football dominate the site's offering. This much is evident as soon as you log onto the site.
What we really like about 888 is the fact that everything is so clean and well-organized. Betting markets are listed on the left side of the homepage, with "Popular" sports coming first and foremost. As you could have probably guessed, 888's "Popular" betting markets include NCAA basketball,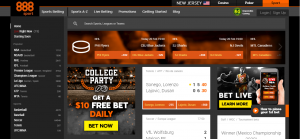 NBA, NHL, XFL/NFL, as well as well-known soccer and tennis competitions, such as the Women's Tennis Association and La Liga, Spain's top soccer division. Every market listed will have a number next to it signifying just how many betting options are available, and on any given day you will see tens of thousands of potential wagers. A full listing of the betting markets available is as follows:
-Basketball
-Soccer
-Baseball
-Tennis
-UFC/MMA
-Australian Rules Football
-Boxing
-Cricket
-Cycling
-Darts
-Football
-Golf
-Hockey
-Motorsports
-Rugby (league and union)
When it comes to the most popular leagues in the United States such as the NFL and MLB, you can rest-assured that there will be nothing short of extensive betting coverage for every game, big or small. This means that you will be able to bet on the game or event, as a whole, by way of spreads, moneylines, and totals (over/unders). In addition, you will find segment betting, such as first half betting in college basketball or 5-inning run lines for baseball competitions. Beyond that, there will also be a wide array of player and team propositions, such as the potential first goal-scorer in a hockey match or the first player to score a touchdown for a given NFL team. All in all, bettors will be overwhelmed by the sheer number of betting options on even the most unenticing regular season game.
When the focus begins to move away from the United States, the betting options become increasingly slim. With basketball for example, even though there are plenty of popular leagues in Spain, Germany, and Turkey, the only options outside of college and NBA basketball are EuroLeague games. With baseball, the story is more or less the same except only MLB baseball is featured at 888 sportsbook New Jersey.
Soccer and rugby are the two sports that really shine in terms of there being a truly complete global coverage. Soccer features betting—even live betting—on just about every league across Europe. With rugby, 888 covers competitions from both the Northern and Southern hemispheres; something you do not always see at most legal and regulated US online sportsbooks.
Live Betting
Live betting at 888 is a bit above average simply because of the coverage of sports from outside the United States. As we alluded to before, any and all of the major US sports leagues will feature an extensive number of wagering options both before and during the events. EuroLeague basketball games feature more than 25 individual live wagers, NBA and NCAA basketball boast even more extensive live coverage.
If you are a soccer bettor, there may not be many better places to go for live betting. Even though almost every legal and regulated online sportsbook in New Jersey will boast global soccer coverage, their live betting may feature next to 0 options. At 888, the coverage of in-game soccer is second to none. We were not overly surprised given 888's European roots, but it was nice to see that New Jersey soccer bettors are not being left in the dark.
Mobile Betting
Mobile betting is the primary way many—if not most—New Jersey bettors place their wagers online. 888 has mobile applications that are compatible with both Android and iOS devices that can be downloaded directly from the 888 site. In fact, if you navigate to the mobile site on your smartphone or tablet, you will be greeted with a prompt to download the app and begin the sign-up process.
888 allows bettors to do everything on the mobile app that would be able to be done on the desktop site. Whether it be making a deposit or withdrawal, placing live bets, or even signing up and making an initial deposit, there is no aspect of the sportsbook that is lost with the mobile application. Because New Jersey state law mandates that sports bets be physically placed from within the state, your device's GPS feature will need to be enabled in order for your location to be verified. Without doing this, you will not be able to place any wagers.
Welcome Bonus and Other Promotions
The promotions aimed at new sports bettors at 888 New Jersey are in line with what you will find elsewhere, only 888 is a tad more generous. Rather than the $250 free bets you will find offered to new players at other New Jersey online sportsbooks, 888 New Jersey boasts a massive $500 risk-free first bet to new players who have just made their first deposit. If your first wager ends up being a loser, you will be credited the amount of the loss back as a 'Free Bet' token.
If, for example, you make a $100 wager and it loses, you will then be eligible for another $100 wager by way of the 'Free Bet' token. Once the $100 token is credited to your account, it must be used in full. You cannot place a series of bets totaling to $100, but will rather have to wager all $100 on one single bet.
Another promotion for new players is the $10 free live bet. If you place a $10 live wager on a team with odds of at least -200, you will receive a token good for another $10 bet, on the house.
With regard to other promotions, 888 New Jersey does not shy away from them. Whether these promotions exist as a risk-free bet on a specific sport (Ie. Risk-free soccer parlay promotion) or as a way to recoup losses (Money Back Monday), they almost always give bettors the opportunity to either retrieve lost funds or place wagers with no risk. As we said, there is no shortage of these promotions at 888, and they are constantly changing.
Banking Options
Like most legal and regulated online sportsbooks in New Jersey, 888 sportsbook offers players a number of different banking methods by which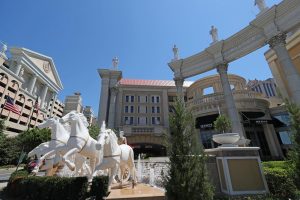 they can both fund and withdraw from an account. The full listing of banking methods as well as a brief explanation of how each method works will be listed below:
ACH Bank Transfer: Available to facilitate both deposits and withdrawals, an ACH bank transfer is a safe and secure way to move funds directly from a bank account to a player account at 888, or vice versa.
Cash at Cage: If you live or happen to be near Caesars Atlantic City, you can deposit and withdraw funds directly from any of the casino's cages. Most of these types of cash transactions will appear in your online account within an hour of the deposit or withdrawal having been executed.
PayPal: Players can use the world-famous e-wallet, PayPal, to facilitate both deposits and withdrawals. The catch to this particular method is that you cannot pursue a PayPal withdrawal without first executing a PayPal deposit. Once that initial deposit has been made, you can move money to and from a PayPal account by way of 888 online sportsbook New Jersey.
Credit/Debit Cards: Credit and debit cards are accepted for deposits only at 888 online sportsbook New Jersey. With this much being said, it is important to note that your bank's individual policies may prevent a deposit from going through. For this reason, we often push bettors in the direction of the other available banking methods, simply because they often prove to be easier to use.
Online Banking: By way of a secure portal, you are able to login to your online banking account and directly deposit money into your 888 New Jersey sports account. If you are a person who is intent on making a debit or credit card deposit, we suggest you utilize the online banking option as it does not come with the regulatory headaches that some credit and debit card deposits do.