When people think of New Jersey, shortly behind the plethora of beaches comes to mind the fact that it is home to the lone true gambling hub east of the Mississippi River. Atlantic City, for as long as most can remember, has been one of the few places where Las Vegas-style gambling takes place outside of Las Vegas. While this is true, the gambling that long took place in New Jersey was of the casino variety; games like poker, blackjack, and roulette. It wasn't until recently that sports betting became legal in New Jersey, and along with that legalization came a whole new era of gambling in the Garden State.
Now, anyone who is 21 years of age and physically located in the state of New Jersey is able to place sports bets at any of the growing number of available online sportsbooks. The following will touch upon everything there is to know about online sports betting in New Jersey, from how it became legal, what options are available today, and much more.
History of New Jersey Online Sportsbooks
The history of sports betting in New Jersey is one that began and finished in the court system. All the way back in 2009, then-Governor Christ Christie supported a growing legalization effort within New Jersey that would make sports betting legal, just as it was in Las Vegas. Despite the state's best efforts, any momentum realized before the turn of the decade would be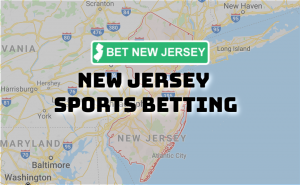 quickly done away with. That is because a court battle between New Jersey and some of the United States' largest sports leagues (including the NFL, MLB, and NBA) broke out, stalling any push for legalization.
From the outside looking in, it seemed as though New Jersey had sturdy legal ground upon which to stand. After all, they were arguing that the issue of sports betting in New Jersey was a state's rights issue and therefore could be decided without outside interference. The professional sports leagues however, they were arguing that the 1992 Professional and Amateur Sports Protection Act—a Federal law that made sports betting illegal everywhere except a few, specific locations—overrode any sort of state ruling.
New Jersey Defiantly Moves Forward
Despite being locked in a legal battle, a 2011 referendum was held in New Jersey on the subject of sports betting. Overwhelmingly, those in the state were in favor of legalized and regulated sports betting, and so Governor Chris Christie enacted legislation in 2012 that would make sports betting legal. Shortly before the 2012 legislation was signed, State Senator Ray Lesniak was successful in passing a bill that would make online sports betting legal to those over the age of 21. Even though Governor Christ Christie was adamantly in favor of sports betting, he ended up vetoing the 2011 online sports betting bill due to concerns over player protections.
While Christie's veto undoubtedly dealt a blow to the online sports betting legalization effort in New Jersey, its impact was undermined by a successful injunction filed by the aforementioned professional sports leagues. In three ensuing state court battles, the courts sided with the professional leagues on the basis of Federal Law overriding state's rights. In other words, even if New Jersey's citizens wanted and voted in favor of sports betting, the 1992 Federal Law known as PASPA reigned supreme and superseded any action on the part of the state.
In 2013, Lesniak was able to pass another, updated bill that did earn the approval of Christie. Despite this, New Jersey was still a long ways away from sports betting of any type.
One Final Push
Despite looking like sports betting in New Jersey was a dead issue, one final push was made. New Jersey took the issue to the Supreme Court of the United States, and to the surprise of everyone the nation's top court decided to hear the issue out. Not only that, but after three defeats in lesser courts, SCOTUS ruled that the 1992 Professional and Amateur Sports Protection Act was Unconstitutional. What this meant was that New Jersey's Hail Mary was answered and sports betting was finally a legal, state-sponsored activity.
Sports Betting was officially legalized in June of 2018, and within months of sportsbooks opening within the state's casinos and racetracks, the first online sportsbooks began going live as well.
Online Sports Betting in New Jersey Today
Now, there are in upwards of 20 online sportsbooks offering their services to folks located within New Jersey. If you have any familiarity with online sports betting, most of the titles available to you in New Jersey are the same as those that exist in other legal and regulated markets around the world. This is just one of the many ways players can be sure that the sportsbooks at which they are betting are the real deal.
The Following will provide a full listing of available New Jersey online sportsbooks as well as other useful information:
–888 Online Sportsbook New Jersey
–Bet365 Online Sportsbook New Jersey
–BetAmerica Online Sportsbook New Jersey
–BetMGM Online Sportsbook New Jersey
–Caesars Online Sportsbook New Jersey
–DraftKings Online Sportsbook New Jersey
–FanDuel Online Sportsbook New Jersey
–Fox Bet Online Sportsbook New Jersey
–Golden Nugget Online Sportsbook New Jersey
–PointsBet Online Sportsbook New Jersey
–Resorts Online Sportsbook New Jersey
–SugarHouse Online Sportsbook New Jersey
–theScore Bet Online Sportsbook New Jersey
–UniBet Online Sportsbook New Jersey
–William Hill Online Sportsbook New Jersey
Location Verification Through GPS
As part of the legalization process, and because New Jersey online sportsbooks can only serve New Jersey, any and all online sports betting will be tracked by GPS. This is necessary to ensure that all bets are placed from within the state's borders and was a necessary part of passing any online sports betting legislation. In other words, online sports betting would not have become a reality if there was not a way for the New Jersey Division of Gaming Enforcement to ensure that sports bets were placed in New Jersey, and not somewhere else.
Online Sportsbooks Anchored to Physical Locations
Another way in which New Jersey's online sports betting market inherently protects players is by mandating that every online sportsbook be tethered to a physical gambling location, usually a casino or racetrack. Thanks to this, online sportsbooks have a place in the real world and cannot simply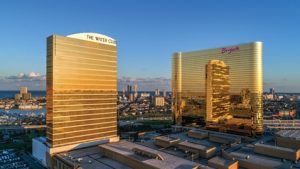 vanish into thin air with the bankrolls of their players.
In a highly unlikely hypothetical scenario where a New Jersey online sportsbook disappears overnight, restricting you from accessing your money, the casino to which that sportsbook was tethered then becomes liable. Basically, there is no way for an unscrupulous operator to take advantage of a player.
Apps Available for Android and Apple (iOS) Devices
Any New Jersey online sportsbook can be accessed from a desktop or laptop computer, but most also boast apps that can be downloaded directly to a smartphone or tablet. It is best to do a bit of research beforehand though, because many New Jersey sportsbook apps must be downloaded from the sportsbook's website, not through any app store.
Commonly Used Banking Methods
Banking at online sportsbooks in New Jersey will vary slightly in that not every sportsbook will offer the same exact banking methods. With that said, you will find that most online sportsbooks boast the same banking methods nonetheless.
While most accepted deposit methods also double as a way to withdraw funds, there are a few that exist as deposit-only. The first and most popular of these is a credit card deposit. While most major credit cards are accepted, and credit cards are easy to use, they can only fund an account. This also holds true if you are depositing by way of a VISA gift card, or any other prepaid card.
As far as accepted methods of both deposit and withdrawal are concerned, you will find that e-wallets (like PayPal) and bank transfers are the easiest. If you are physically located near the location (casino or racetrack) to which the sportsbook is tied, you are able to deposit and withdraw funds at the casino/racetrack cage.