BetMGM is owned by MGM Resorts International which was founded back in 1986 and they are one of the biggest gambling companies in the world thanks to their brick-and-mortar operations in Las Vegas, Mississippi,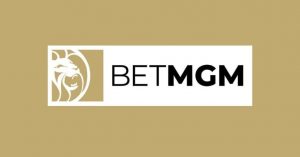 China, Michigan, New York, Maryland, Ohio, and Massachusetts. They own many of the most popular casinos on the Las Vegas strip such as The Bellagio, Aria Casino, Mandalay Bay Casino, The Mirage, and MGM Grand.
Once they dominated the land-based gambling market they decided to begin taking over the online gambling market by launching a fully legal and regulated online sportsbook operation in the state of New Jersey in 2018. Since then, they have also launched legal online gambling sites in Colorado, West Virginia, and Indiana thanks to favorable law changes all over the US. In the following review, we will be focusing solely on the BetMGM online sportsbook that is available for those located in New Jersey and compare it to other sportsbooks that are offered in that area.
Sports, Leagues, and Betting Markets Available
The selection of betting markets for you to choose from at BetMGM Online Sportsbook is almost identical to other online sportsbooks in the New Jersey area. According to their A-Z listing, they consider the top six betting markets to be baseball, basketball, soccer, golf, tennis, and hockey. A full listing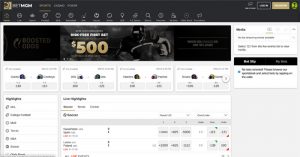 of the betting markets available is as follows:
• American Football
• Australian Rules Football
• Baseball
• Basketball
• Boxing
• Cricket
• Cycling
• Darts
• Golf
• Hockey
• MMA
• Motor Racing (NASCAR and Formula 1)
• Rugby League
• Rugby Union
• Snooker
• Soccer
• Table Tennis
• Tennis
The sports icons listed at the top of the sportsbook lobby make it very easy to see which markets have events coming up because they will be colored-in instead of black and white. Many of these sports feature international events so you will always be able to find some event to bet on no matter what time of day it is.
Live Betting
Much like all of the other New Jersey online sportsbooks, BetMGM offers the capability to wager on a sporting event while it is currently in progress even if there is only a minute or two left until it is over. To access the live betting portion of the BetMGM sportsbook you just need to click on the "Live" link at the top of the main lobby.
Once you have entered the live betting lobby you will see all of the events that are currently running and they will be neatly organized according to the betting market that they belong to. You will also see all of the current betting odds for each side of every contest and if you click on the "Bet Now" option next to any of the events you will see even more betting options such as prop bets and special bets.
Live Streaming and Play-by-Play
Once you have entered the live betting lobby of the BetMGM sportsbook you will notice the upper right-hand corner has a box labeled "Media". If you click on the play sign that looks like to Youtube logo you will be able to live stream an event by selecting it from the pulldown menu that says "Select an Event".
If you just want to get play-by-play updates for the event in question you simply need to click on the icon in the "Media" box that looks like a soccer field. This option is not as fun as watching the event live but you will still be able to receive instant updates pertaining to how the event is going so that you can more effectively choose which live bet you want to partake in.
Mobile Betting
The BetMGM mobile sports app gives you access to all of the same sporting events that you can bet on from your personal computer. You will also be able to create a new account and initiate banking transactions using this app but you will not be able to use it to place bets unless you are physically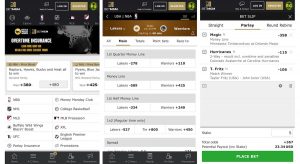 located in the state of New Jersey.
Once you have created a new account, BetMGM sends you a welcome email with instructions on how to download the app to your mobile device. Those of you with an iOS device can simply search for "BetMGM" in the app store and download the app with ease. If you have an Android device you will need to click on the "Available for Android" button that is located in your welcome email and it will instantly download it for you.
Cashout Betting
One of the most unique features of BetMGM Online Sportsbook New Jersey is that some wagers will allow you to "cash-out" early and receive less money than you would if you won the bet at the end of the contest. For example, if you wager $100 on the Knicks to win their game against the Celtics and they are up 12 points at halftime, a cash-out would allow you to collect somewhere around $70 to end the bet right there.
This type of wager applies to both straight bets and parlay bets and is a great way to minimize variance if you have a bad feeling that the flow of a sporting event is about to change. If available, the cash-out option will be available in the "My Bets" section of the bet slip and the cash-out amount will constantly be changing according to the action in the sporting event.
Edit My Betting
Another great feature that is available on all wagers that are also eligible for a cash-out bet is the ability to edit your bets in the middle of the game. If you don't like how an event is going for you then you can change your bet by accepting inferior odds to switch sides and increase your chances of winning.
One advantageous part about editing your bets is that you can also increase the stakes of your wager to make up for the odds changes that you are forced to accept. Bet editing can be done for both straight bets as well as parlay bets and you will also be able to add or subtract parlay legs which will naturally manipulate your potential payout dramatically.
Welcome Bonus and Other Promotions
BetMGM offers four different bonus promotions for their sports bettors to partake in, but none of them are a welcome bonus for new players. This is one of the only online sportsbooks in New Jersey that neglected to provide a welcome bonus so anyone who really likes to claim and clear them should consider checking out one of our other online sportsbook reviews for those who are located in the state of New Jersey.
The first bonus promotion that you should make sure to opt into is the Money Monday Club and you will need to access your account via the BetMGM mobile app in order to do so. This lucrative club allows you to collect a $10 free bet every week as long as you placed at least $50 in wagers at -300 odds or greater the week before from Monday through Sunday. You will only be able to claim this bonus once per week but if our math serves us correctly that will add up to $520 per year in free bets which is nothing to scoff at.
Anyone who loves to make a lot of parlays should consider opting into the Multi-Sport Parlay Boost which will reward you with up to 40% more in profit for all of your winning parlays. The amount of extra money you will win fully depends on the number of legs your parlay has and as the name suggests you can mix different markets together in the same parlay which is great for those who are fans of multiple sports that are in-season at the same time.
MLB fans have a promotion that is aimed directly at them which is called the Hit The Cycle Challenge. This challenge gives you four different missions to complete in order to get rewarded with a $20 free bet and you can take advantage of this promotion once per week. The four missions you will have to complete are placing a $10 pre-game wager with -200 odds or greater, placing a $10 2-leg parlay where each leg has -200 odds or greater, placing a $10 3-leg parlay where each leg has -200 odds or greater, and placing a $10 live in-play wager with -200 odds or greater.
NBA fans also have a promotion that is meant just for them which allows them to collect a $20 free in-play bet just by making a $50 in-play wager on any NBA game of their choosing. This promotion can be utilized once per day and you will need to log-in to the BetMGM mobile app to opt-in before you are eligible to participate. The minimum odds for each qualifying bet are -200 or greater and you will receive your $20 bonus whether your $50 wager is a winner or not.
Banking Options
BetMGM offers 13 different banking options that will allow you to deposit funds into your account in addition to five different options that will allow you to withdraw funds out of your account. This is more banking options than many online sportsbooks in New Jersey offer so there is no reason why you would have any trouble finding one that works for you. All of the banking options that we will investigate in detail in the sections below are fully legal and regulated so you will never have to worry about your money arriving at the destination you want it to go to.
Credit and Debit Cards: BetMGM offers more credit and debit card options than any other online sportsbook in the New Jersey area since you can use Visa Card, MasterCard, American Express, and Discover Card to make deposits into your account. The minimum deposit limit for all of these cards is set at $10 while the maximum daily deposit limit is set at $4,500 for each card. Using a credit or debit card is the most popular way to deposit into your online account thanks to the quick and easy nature of it and once you enter your card information you will never have to enter it again.
BetMGM Play+ Prepaid Cards: These prepaid cards offered by BetMGM are available to use for both deposits and withdrawals once you sign up for one and receive them in the mail. The main advantage of having one of these cards is that your withdrawals will be processed instantly compared to having to wait multiple days as you do with other withdrawal methods. The minimum deposit limit for these cards is set at $10 and the most you will be able to deposit in one day is set at $4,500.
ACH (E-Check): Once you have entered your banking information this banking option is very useful since it will allow you to make deposits AND withdrawals which the other bank transfer options do not allow. The minimum deposit limit is set at $10 just like many of the other banking options but what really sets ACH E-Checks apart is the massive $15,000 daily maximum deposit limit that dwarves most of the other maximum deposit limits.
Bank Wire: This banking option is a lot like the ACH E-Check except that it can only be used to deposit funds and not to withdraw them. All you need to do is enter your banking information and request your funds after which your deposit will be completed instantly. This is the only deposit method that imposes a minimum deposit limit of $50 since all of the other deposit methods only force you to deposit at least $10 at a time.
Online Banking Transfer: Depositing funds using this method is also a lot like using the ACH E-Check and it is compatible with many different banks such as TD Bank, Bank of America, and Wells Fargo. Once you have entered your bank information you will be able to instantly deposit anywhere from $10 to $1,500 into your account so that you can begin wagering immediately.
PayPal: This e-wallet allows you to complete deposits and withdrawals as long as your bank account is hooked up to your PayPal account. The minimum deposit limit is set at $10 while the maximum daily deposit limit is set at $10,000. This is currently the only e-wallet banking option available since Skrill is not operating at the moment. Before you order a withdrawal using PayPal you will first need to complete a deposit using PayPal and the withdrawal completion times range anywhere from four to six business days.
Checks: This archaic banking option is only available for withdrawals which should not be a problem since mailing a check to deposit onto an online sportsbook is not necessary in the year 2020 when there are 13 different deposit options. These checks can take up to two weeks to receive in the mail (if they don't get lost along the way) which is the longest wait time out of all of the other withdrawal options. For that reason alone, we recommend avoiding this withdrawal method unless you have absolutely no other choice.
PayNearMe: This voucher-based deposit option is one of two different choices you have when you want to deposit funds into your account using cash from your wallet. All you have to do is obtain the PayNearMe bar code from your account cashier and then visit any local participating 7-11 store, CVS store, or Family Dollar store to complete your transaction. The minimum deposit limit using PayNearMe is set at $10 while the maximum deposit limit is set at $1,500 per day.
Borgata Casino Cashier Cage: Those of you who live near Atlantic City will want to take advantage of this deposit and withdrawal method, especially if you favor cash transactions over electronic ones. The main perk to using the cashier cage at Borgata Casino to facilitate your withdrawals is that they will be processed instantly. The minimum deposit limit is set at $10 while the maximum deposit limit is higher than any other banking option at $50,000. Before you head to the casino to complete your transaction be sure to initiate it in your BetMGM account cashier first and also remember to bring along your account information and government ID.