BetAmerica was purchased by one of the leading online wagering companies known as Churchill Downs Incorporated in 2017. This publically traded company evolved from just one little racetrack in Louisville, Kentucky back in 1875 and is now a well-known operator of numerous racetracks, sportsbooks, and casinos.
Churchill Downs took their online presence to a new level after they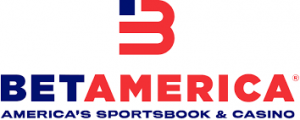 founded BetAmerica Online Sportsbook along with a casino and a racetrack  for anyone located in the state of New Jersey in mid-2020. They now have an online sportsbook in Pennsylvania, Indiana, and New Jersey which makes them one of the biggest contributors to the newest online sportsbook craze that is sweeping the nation. Follow along in the upcoming sections if you wish to see exactly what this fully legal and regulated online sportsbook has to offer their members and how it compares to other sportsbooks based in New Jersey.
Sports, Leagues, and Betting Markets Available
There are 17 different markets to choose from when you want to make a bet on a sporting event and this is right around the average amount for a New Jersey online sportsbook. You may notice that the major American sports leagues such as NFL, NBA, MLB, and NHL are listed at the top of the otherwise disorganized list on their website since these are the most popular sports that gamblers at BetAmerica New Jersey place their bets on.
• American Football
• Aussie Rules Football
• Baseball
• Basketball
• Boxing
• Cricket
• Cycling
• Darts
• Golf
• Hockey
• MMA
• Motor Racing
• Soccer
• Rugby League
• Rugby Union
• Tennis
• Table Tennis
In the top-left section of the main sportsbook lobby, you will notice that they have listed all of the popular bets for the upcoming day. This is a good place to start when you are looking for something to bet on but if you want to be more unorthodox about your selection you can click on the "Upcoming" link and see the entire list of events that includes the ones which are not so popular. There are plenty of events that have some hidden value to be found in the "Upcoming" section since most Americans will not venture to this area of the sportsbook and there is more likely to be a listing that is more in your favor here.
Live Betting
If you got home from work a little bit late and you missed the start of a sporting event that you planned on watching and betting on there is nothing to fear since you can still make a live bet on BetAmerica after the game has begun. You can find the list of sporting events that are available for live betting by clicking on the "Live Sports" link at the top of the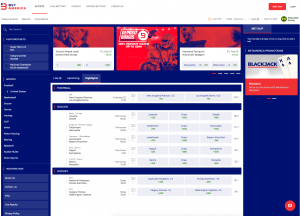 sportsbook's main lobby.
The main live betting page neatly organizes all of the currently running sporting events according to what betting market they belong to along with all of the current lines for each side of the event as well as the totals. If you wish to see even more bets that are available for a particular contest such as player props or team props you can click on the rightward-facing arrow with a number underneath it and the number represents the number of other bets you will find there. If you are curious about which live events are coming up in the near future you just need to click on the "Live Schedule" link at the top of the page.
Live Streaming and Play-by-Play
Occasionally, the event that you wish to bet on is not available on cable television in your area and you have to find a way to follow the game online somewhere. There is currently no live streaming option for gamblers at BetAmerica Online to take advantage of, but there is a play-by-play feature that will help you follow along in real-time.
To access the live play-by-play feature all you need to do is click on the "Event View" link at the top of the live betting page. On the left side of the page, you will see all of the events listed that will allow you to watch play-by-play updates and underneath the play-by-play screen in the middle of the page you will see all of the currently available open bets for that event.
Mobile Betting
BetAmerica offers a mobile app for both Android and iOS devices which will allow you to make sports bets, casino bets, and live play wagers while you are on-the-go. You will also be able to create a new account from this app as long as you are located in New Jersey as well as initiate banking transactions.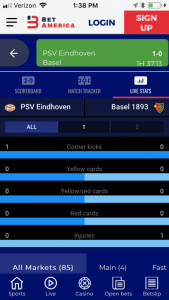 If you want to download the app using an iOS device you can do so by searching for "BetAmerica" in the app store and then clicking the download button. If you have an Android device, you will need to visit https://nj.betamerica.com/android-download/, click on the red download button, and then follow the instructions below it to obtain the app.
Super Odds Betting
One of the most unique parts of BetAmerica Online is that they offer "Super Odds" betting for specific sporting events which gives superior odds compared to other bets that are similar in nature. These bets are generally offered in the major US markets such as baseball, basketball, and football and they give you a great opportunity to accumulate a bankroll on the site without risking much money. Many of the odds given on these bets are between +200 to +300 and they are not as difficult to win as wagers with those odds usually are.
Welcome Bonus and Other Promotions
New players who sign-up on BetAmerica Online Sportsbook New Jersey using the bonus code "BET50" will receive a 100% match bonus on their first bet for up to $50. For example, if the first bet you make is in the amount of $40 then an extra $40 in bonus funds will be added to your account. Unfortunately, these bonus funds are non-withdrawable but any winnings that you accumulate with them are withdrawable at any time.
One of the key rules for this welcome bet bonus is that your first wager must be on a side that has -200 odds to win or greater. Also, any bonus funds you receive will come with a 3x wagering requirement before you can withdraw any of your winnings. Lastly, your welcome bonus funds must be used within seven days or else you will forfeit them back to BetAmerica.
Other than this welcome bonus that is relatively lame compared to other New Jersey sportsbooks, there are only two other bonus promotions available for sports bettors on BetAmerica. This low number of bonus promotions will concern some players but as long as you capitalize on all of them you can get full value from your experience on the site.
The $2,500 Soccer Challenge gives cash prizes for those who bet the most on eligible soccer events such as Premier League, FA Cup, La Liga, Copa Del Rey, Serie A, German Cup, Champions League, Europa League, or MLS contests. For every 20$ you wager on a qualifying soccer event with odds of at least -150 you will receive one point toward the leaderboard and the top 25 spots on the leaderboard will receive anywhere from $25 to $1,000 depends on where they place. To participate in this promotion you will need to visit https://nj.betamerica.com/2500-soccer-challenge/ and then click on the green "Opt-In" button. The best part about this promotion is that you will be paid in cash for your leaderboard placement which means that there are no playthrough requirements involved at all.
The final sportsbook bonus promotion offered by BetAmerica is Multi-Sport Parlay Insurance which will give you back 100% of your wager in the form of bonus funds if you hit every leg of a multi-sport parlay except for one. The only requirements for this promotion are that your parlay must have at least five legs and the bets must all have -200 odds or higher. The most money that you can receive back from this promotion is set at $25 and you will have two days to use your bonus funds after you receive them. Therefore, to efficiently take advantage of this promotion we recommend making a five-leg parlay where you risk exactly $25 on events that have odds between -100 to -200.
Banking Options
Deposit and withdrawal methods on BetAmerica Online Sportsbook New Jersey will vary from player to player according to verification status and account history. If you wish to check which methods are available to you as well as your personal minimum and maximum bet limits you can do so by clicking on "My Account" once you have logged in. Below we will spell out what each banking option entails so you can make an educated decision on which one is best for you.
Credit and Debit Cards: Visa Card and MasterCard are both accepted methods for easily depositing funds into your BetAmerica account. All you need to use a Visa Card is a bank account with at least $10 in it that is connected to it and you will be able to deposit funds into your account instantly and free of charge. This is the most widely used deposit method and there is no reason to use any of the other methods unless you want to deposit cash or simply do not have a card to use.
ACH (E-Check): Another way of using your bank account to deposit AND withdraw funds to and from your BetAmerica account is via ACH E-Check which is also known as a Wire Transfer or a Bank Wire. These deposits will always be completed in less than 10 minutes and withdrawals will usually take between four to six business days.
Online Bank Transfer: Much like the Visa Card option, you can use Online Bank Transfer to deposit funds using your bank account. This banking option is supported by 13 different banks in the New Jersey area but usually comes with a deposit limit of $1,500 which is much lower than what a Visa Card usually limits you to. There is really no advantage to using this deposit method over the ACH E-Check or Visa Card methods.
PayPal and Skrill: E-wallets are popular among online gamblers and PayPal is one of the most trusted and widely used e-wallets in the world. These banking options will allow you to deposit and withdraw funds once you have hooked your bank account up to it, but it is important to remember that you will not be able to withdraw funds to your PayPal or Skrill account unless it was your original deposit method. Deposits will always be completed with these e-wallets in less than 10 minutes while withdrawals will usually take three or four business days to process.
Cash at Cage: If you want to make a deposit or withdrawal transaction that involves cash and you live close to Atlantic City then your best bet is to visit the Golden Nugget Casino cashier cage. Both deposits and withdrawals using this method will be processed instantly which is its main advantage over the other methods. Before you visit the cashier cage you first need to initiate your transaction by selecting "CASH" in your BetAmerica account cashier and then wait to receive your confirmation email. You must also remember to bring your BetAmerica account information and government ID when you visit the Golden Nugget or else your transaction will not be completed.
PayNearMe: If you want to deposit funds using cash but you do not want to travel to the Golden Nugget Casino in Atlantic City then your only other option is to use PayNearMe. Once you visit your BetAmerica account cashier and request a PayNearMe barcode you can then bring that barcode to a participating 7-11 convenience store and complete your cash deposit. This is one of the only deposit methods that will charge you a fee and this fee usually ranges from $0.99 to $5.99 with around 70% of stores charging exactly $1.99. The maximum deposit limit for PayNearMe is set at a lowly $500 which is yet another aspect that makes it inferior to nearly all of the other deposit options.