Caesars Entertainment Corporation has had a rocky existence filled with bankruptcy and numerous name changes but they have still come out on top of the gambling industry as one of the most recognizable household names. Caesars owns three properties in the Atlantic City area that include Bally's Casino, Harrahs Casino, and Caesars Casino as well as numerous other properties all over the world.
While the land-based Caesars Casino in Atlantic City does not offer a physical sportsbook, they decided to launch an online one in September of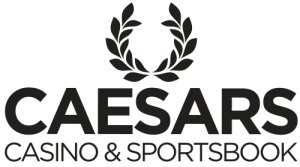 2018 for those who are located in the state of New Jersey. It is important to remember that just because an online sportsbook is fully legal, regulated, and operated by a popular household name does not mean that it is a high-quality site compared to their competition. Throughout the following review, we will examine various aspects of Caesars Online Sportsbook such as betting markets, bonus promotions, and banking options to show you that the previous sentence holds very true in this case.
Sports, Leagues, and Betting Markets Available
Given the worldwide popularity of the Caesars brand name, you would think that they would offer more betting market options than their New Jersey competition, but that is clearly not the case. There are a total of 12 betting markets here since they decided to omit some that are not always very popular with Americans these days such as cricket, darts, boxing, and rugby union. The final list of betting markets is listed below in alphabetical order:
• American Football
• Baseball
• Basketball
• Golf
• Hockey
• MMA
• Motor Racing
• Rugby League
• Soccer
• Specials
• Table Tennis
• Tennis
One unique aspect of this collection that many other online sportsbooks in New Jersey do not include on their A-Z listing is the Specials market. Once you click on this market you will see a lot of futures bets that ask you to predict outcomes such as a team's total wins for the season or who will win the world championship in a specific market.
Live Betting
Live betting is offered by every single online sportsbook in the New Jersey area and it is a great way to get in on the action if you missed the start of the sporting event. To access the live betting section of the Caesars Online Sportsbook you just need to click on the "In-Play" tab at the top of the main lobby.
At the top of the in-play lobby, you will see a tab that says "Live Now" with a red number next to it that indicates the number of sporting events that you can bet on at that very moment. Right underneath those live events they conveniently list all of the next upcoming events that support live betting so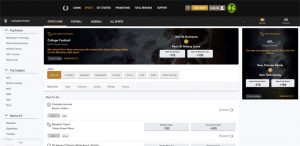 that you can plan your day accordingly.
Every event (whether currently live or not) will list the most popular bets and the odds that correspond with each one but if you click the right-ward facing arrow next to each sporting event you will be able to see ALL of the possible bets available for that contest. If no live events are running and you are dying to bet on SOMETHING then you should check out the computer-simulated virtual sports that are available by clicking on the "Virtual Sports and Other Games" tab at the top of the live betting lobby.
Live Streaming and Play-by-Play
Caesars Online Sportsbook is one of the only sportsbooks in the New Jersey area that does not offer live streaming or play-by-play features for their live betting events. If you like to watch sporting events that you bet on but you do not have cable television and you do not know how to stream sporting events online then you will probably want to check out one of our other online sportsbooks that serve the state of New Jersey.
Mobile Betting
The Caesars mobile app allows you to access both their online sportsbook and their online casino from your mobile device as long as you are located inside the state lines of New Jersey. You will also be able to use this app to register a new account or facilitate banking transactions which means you do not even need a personal computer to participate in the action.
If you have an iOS device, you can download the app from the App Store by searching for "Caesars Casino and Sports" but you will first need to make a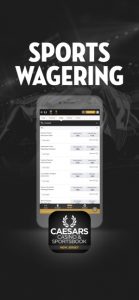 US-based iTunes account if you do not already have one. For Android devices, you will not find the app in the Play Store so you will have to download the app by navigating to www.caesarscasino.com using your web browser and then click on the "Download Now" button.
Cash-Out Betting
Cash-out bets are a great way to minimize the variance that is inherent in sportsbetting since they allow you to end a bet early in exchange for accepting a smaller payout. For instance, if you bet $100 on the New England Patriots to win their football game against the Denver Broncos and the Patriots are winning by 14 points at halftime you may be able to end your bet right there and receive around $70. Not every event qualifies for a cash-out bet but if you are curious to find out which ones do qualify you simply need to click on the "Cash Out" tab in the upper right-hand corner of the main sportsbook lobby next to the bet slip tab.
Welcome Bonus and Other Promotions
There is currently no welcome bonus available whatsoever for sports bettors on the Caesars Online Sportsbook New Jersey which puts them way behind their competition. Most sites in the state of New Jersey will at least give you a few free bets as long as you deposit a small amount and meet the bonus requirements.
In a shocking revelation, the "Casino and Sports Promotions" page at Caesars Online Sportsbook New Jersey only contains promotions that are related to the casino, leaving sports bettors with the short end of the stick. The only thing that comes close to resembling a bonus promotion on this site is the fact that your sports wagers will earn you points towards your brick-and-mortar Caesars Rewards program. You can review your personal Caesars Rewards details by clicking on "My Account" followed by clicking on the "Loyalty Deals" link.
For every 10 dollars you wager on a sporting event at Caesars Online Sportsbook New Jersey you will receive 1 tier credit and 1 online reward credit. The tier credits will help you work towards achieving a higher Caesars Rewards status while the online reward credits can be collected and then redeemed for a variety of prizes that include free hotel stays, free casino play, shopping sprees, golf outings, and free dining. Once you earn enough tier credits and achieve a high Caesars Rewards status such as the Diamond Reward level, you will be able to receive perks such as a 20% discount at all casino gift shops, priority lines for hotel check-in and restaurants, a $100 celebration dinner and access to luxurious Diamond Rewards Lounges.
Banking Options
Caesars Online Sportsbook New Jersey features ten different banking options that you can use to deposit money and four different options to use when withdrawing money. The reason there is such a large gap between the two is that four of the deposit options are credit or debit cards which are never used for withdrawals. Below you will find all of the banking options listed and all of the information you will need to make a decision on which one fits best for your needs.
Credit and Debit Cards: The four different credit and debit cards that you can use to fund your account with are Visa Card, MasterCard, American Express, and Discover Card. While Caesars does not charge any fees for depositing using these cards, your card issuer might charge one since they consider these deposits to be a cash advance transaction. Nonetheless, these cards represent the most popular deposit methods used by online gamblers thanks to their convenience and reliability.
Caesars Play+ Prepaid Cards: These cards can be used to both deposit and withdraw funds which makes them much more useful than the usual credit or debit card. In addition, if you already have a Caesars Play+ Card from an online casino in another state you can use that same card to complete transactions in the New Jersey sportsbook. All you need to do is apply for one of these Caesars cards and then once it comes in the mail you can use either a credit card or an ACH E-Check to load funds onto it. The minimum withdrawal amount for this banking option is set at $10, the processing time for these withdrawals will be instant (which is much faster than other withdrawal methods can claim) and you will usually receive your money in less than three days.
ACH (E-Check): Before you can utilize this very useful deposit and withdrawal method you need to enroll in the Global Payments VIP Preferred E-check service by clicking on "My Account", then "Deposit", then the button labeled "Enroll" next to the E-Check option. After you enter your driver's license and banking information you will be able to complete any transaction you like. If you already have used this option using your bank account at any date before December 31st, 2016 then you will already be automatically enrolled to use ACH E-Checks. The average timeframe for an ACH E-Check withdrawal to go through is five business days and the minimum withdrawal limit is set at $10.
Online Bank Transfer: This banking option is a lot like the ACH E-Check method except that it can only be used to deposit funds. In order to utilize this deposit method you need to have an account at Bank of America, BB&T, Chase, HSBC Bank USA, ING Direct, PNC, Regions, SunTrust, TD Bank, U.S. Bank, Capital One 360, or New York Community Bank and you will also need to have "Bill Pay" authorized on your account.
PayPal: This speedy and reliable e-wallet is available for both deposits and withdrawals once you connect your bank account to your PayPal account. A lot of people enjoy using this banking option since there are no fees involved for either depositing or withdrawing funds. Once you have your account setup, all of your deposits will be completed instantly and your withdrawals will be completed in three or four business days. The minimum limit for a PayPal withdrawal is set at $10.
PayNearMe: This banking option support cash deposits only and you will need to visit your local 7-11, CVS, or Family Dollar store to complete your transaction once you initiate it in your Caesars Online Sportsbook account cashier. However, if you live anywhere near Atlantic City we recommend using the cash at Caesars Casino cashier cage deposit method instead since PayNearMe generally charges a fee for their services. The deposit fee ranges widely from store to store with some charging as low as $0.99 and others charging up to $5.99 but around 70% of stores only charge $1.99.
Cash at Caesars Cashier Cage: If you live near Atlantic City and you want to complete cash transactions related to your Caesars Online Sportsbook account then you are in luck because you can do so using the cashier cage at the Caesars Casino. Using this cash-based banking option is much more preferable than using the only other cash option PayNearMe since the maximum limits are much higher, there are not any fees involved, it supports withdrawal transactions, and the processing times are instant. While the minimum withdrawal limits are set at $10 for every other deposit method, there is no minimum withdrawal limit on this banking option which is great news for those of you who like to drive all the way to the casino just to collect a crisp $1 bill.