If you have watched any television over the last eight years the odds are that you have seen some commercials for the widely popular daily fantasy sports and sportsbook providers known as DraftKings. Over time they have become so well-respected that Michael Jordan became a major investor and board advisor in September of 2020.
On August 6th of 2018, DraftKings Online Sportsbook New Jersey became the first fully legal sportsbook to go live in the state of New Jersey and this also made them the first legal sportsbook to ever go live outside of Nevada. Since then, they have shown that they are serious about providing high-quality sportsbetting action to players from all over the country by adding online operations in Indiana, Pennsylvania, New Hampshire, and West Virginia. For the purpose of this review, however, we will be focusing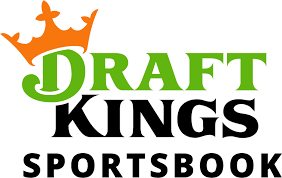 solely on the New Jersey site and comparing it to other legalized sportsbooks in that area.
Sports, Leagues, and Betting Markets Available
There are 19 betting markets available for members of DraftKings Online Sportsbook to partake in which is above average for a New Jersey site. They have included all of the major popular markets as well as some obscure ones that are not present in many other New Jersey sites such as E-sports and handball. Below is the full A-Z list of the markets you will find here:
• American Football
• Australian Rules Football
• Baseball
• Basketball
• Boxing
• Cricket
• Cycling
• Darts
• E-Sports
• Golf
• Handball
• Hockey
• MMA
• Motor Racing
• Rugby
• Soccer
• Table Tennis
• Tennis
• Volleyball
On the left side of their A-Z markets listing they name all of the most popular leagues such as the NFL, NHL, MLB, NBA, and…..KBO? That's right folks, Korean baseball is considered a popular betting market in New Jersey now. Another shocking aspect of their market listing is that there are 87 different soccer leagues that you can wager on.
Live Betting
Betting on events that are currently taking place can be done by clicking on the "Live In-Game" link at the top of the DraftKings New Jersey Sportsbook homepage. At the top of the screen next to the second "Live-In Game" tab, you will see a red number that indicates the number of live events that are available for wagering at that moment in time. Clicking on this tab will reveal all of those bets as well as a pull-down menu that lets you choose what type of bet you wish to make.
A unique live betting feature known as a flash bet can be utilized by clicking on the "Flash Bet" tab at the top of the homepage. This is essentially a faster-paced variation of live betting where bets will pop up on your screen in between plays and you have the potential to complete numerous bets in a matter of seconds.
Live Streaming and Play-by-Play
Unfortunately, there are no live streaming options on DraftKings Sportsbook New Jersey. This puts them behind their competition since nearly every other online sportsbook in the New Jersey area offers a live stream feature. If having a live stream for your bets is important to you then you should consider joining one of our other online sportsbooks for the state of New Jersey. Play-by-play updates are only available if you are participating in a flash bet.
Mobile Betting
DraftKings sports one of the most visually appealing apps in the world and thanks to the black background with neon green letters it is extremely easy to find whatever you are looking for. With this mobile app, you will be able to make a new account, facilitate banking transactions, access their sportsbook, and access their daily fantasy contests.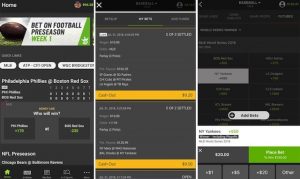 To download this app with an iOS device such as an iPhone or an iPad, you can just visit the App Store and search for "DraftKings Sportsbook" followed by clicking on the download button. If you have an Android device, you will not find this app in the Play Store since they have banned all gambling programs so you will have to navigate to the bottom of the DraftKings Sportsbook homepage and click on the "Sportsbook Mobile App" link. Once you are on their mobile app page you just need to click on the black button labeled "Download for Android" and you will be in business in no time.
No-Brainer Bets
No-Brainer Bets are pretty easy to understand no matter how much brainpower you currently possess. These bets involve outlandish lines that will never lose in a million years and come with normal -110 odds attached so whenever you see one listed in the My Rewards section of your account you need to take full advantage of it since it is free money just waiting to be claimed.
For example, an NFL No-Brainer Bet that you might come across is the Kansas City Chiefs +101 points against their next opponent. The maximum amount that you can bet on these No-Brainer bets is usually $50. This example (much like all of the other No-Brainer Bets) is going to be a very safe bet every single time because the largest loss in NFL history is only 73 points back in the year 1940.
Odds Boosts
Another part of this sportsbook that essentially gives away free money is the Odds Boost section which you can access by clicking on the "Odds Boost" tab at the top of their home page. Instead of changing the actual betting lines as No-Brainer bets do, the Odds Boost bets will change the odds in your favor so that you get paid more than you normally would on any other sportsbook if your bet is a winner.
Welcome Bonus and Other Promotions
New members of DraftKings Online Sportsbook will be welcomed by a 20% match deposit bonus for up to $500 which is a lot of bonus money compared to what other online sportsbooks in New Jersey are willing to offer. If our math serves us correctly, in order to claim the maximum bonus of $500 you will need to deposit a total of $2,500 on your first transaction. For every $25 you wager in the sportsbook you will release $1 of the welcome bonus funds into your account and you will have a total of 90 days to release all of the funds or else they will be forfeited. Any bets that are -301 odds or lower will not count towards the playthrough requirements so if you made a wager on a team that had -400 odds to win their sporting event you would not earn any credit towards clearing the bonus.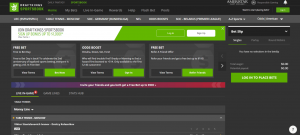 On top of the welcome deposit bonus, DraftKings also offers their new players one risk-free bet for up to $500. If you win your first bet you will not receive any extra money but if you lose your bet you will be reimbursed for the full amount in the form of a free bet. The free bet that you receive from losing your first bet must be used within 30 days of receiving it or else it will be forfeited back to DraftKings.
In our eyes, the promotion with the most value that DraftKings Online Sportsbook New Jersey offers their players is the Million Dollar Pro Pick'Em contest that is free to enter as long as you reserve a seat before the season begins. The winner of this promotion who picks the most winning teams throughout the season will receive one million dollars and then another million dollars will be split up among the other top players.
Another great football promotion that requires no purchases whatsoever is the Golden Ticket Giveaway. One lucky winner from this promotion will receive the grand prize of one million dollars while the rest of the participants are guaranteed to receive anywhere from $5 to $25,000 just for participating. If you miss out on this promotion before the end date you do not have to worry since DraftKings routinely offers seasonal bonuses for lovers of every sport to take advantage of.
The Sportsbook Missions promotion gives each player a certain set of tasks that they need to accomplish and once you complete them you will be rewarded with prizes. This makes participating in the sportsbook even more fun than usual and gives you extra incentive to make bets that you normally would not be making. Once you complete a mission, a new one will pop up right away so you will always have one to work on.
DraftKings is one of the only online sportsbooks in the New Jersey area to offer their sports bettors a refer-a-friend bonus which can get you up to $100 in free bets that are valid for 30 days just for bringing a friend to the site. If your friend deposits between $25-$49 then you will both receive a $25 free bet, if they deposit between $50-$99 you will both receive a $50 free bet, and if they deposit $100 or more you will both receive a $100 free bet.
Banking Options
There are eight different banking options that will allow you to make a deposit and five different options that can be used to make a withdrawal. This is certainly a long enough list to ensure that everyone finds one that fits their needs and puts them on par with other sportsbooks in the New Jersey area. All of these options are guaranteed to work properly with no risk of anyone stealing your money since this is a fully regulated and legal online sportsbook.
Credit and Debit Cards: There are reports that the Visa Card and MasterCard options are sometimes rejected by banks that do not condone gambling transactions, but we have never had an issue. These cards can only be used to make deposits and your deposit will be completed instantly upon request making them some of the more popular options.
Play+ Prepaid Cards: These cards function a lot like a Visa Card except that you can use them for both deposits and withdrawals. Furthermore, your withdrawals will be completed in a very fast timeframe compared to other banking options. It may take a while to set up an account and then receive your card in the mail but it is definitely worth the hassle in the long run.
ACH (E-Check) and Online Bank Transfer: These two electronic banking options allow you to complete both deposits and withdrawals by directly connecting to your bank account. Deposits using these methods will be completed instantly and withdrawals will normally take between 24-48 hours. The banks that are compatible with an Online Bank Transfer include HSBC Bank USA, Chase Bank, Bank of America, Wells Fargo, PNC Bank, US Bank, TD Bank, Capital One 360, ING Direct, Regions, SunTrust, BB&T, and New York Community Bank.
PayPal: This e-wallet allows you to complete both deposits and withdrawals using their services, which gives it a leg up on Skrill (the only other e-wallet available on this DraftKings Online Sportsbook). Deposits using this method will be completed instantly while withdrawals are usually completed in under 48 hours. In order to withdraw funds from your DraftKings account using PayPal, you will first need to make a deposit using your PayPal account.
Skrill: This banking option is a lot like PayPal in that it is an e-wallet that can complete transactions quickly and safely once you connect to your bank account. The main difference is that you cannot use Skrill to withdraw funds which makes it a secondary option in our eyes.
Cash at the Resorts Casino: While most online sportsbooks in New Jersey offer multiple banking options for those who wish to deposit or withdraw funds using cash, the only such option at DraftKings Online Sportsbook New Jersey is to utilize the cashier cage at the Resorts Casino in Atlantic City. High rollers will appreciate this banking method since the maximum deposit and withdrawal limits are far above that of all other options.
Before you visit the casino you will need to initiate the transaction in your account cashier and then wait for a confirmation email. Always remember to bring your government ID as well as your DraftKings Online Sportsbook account information with you so that you can confirm your identity and complete your transaction without any issues.