TheScore Bet Online Sportsbook was launched in the state of New Jersey in 2019 by the Canadian company theScore Inc. This app is partnered with the Monmouth Park Racetrack located in Oceanport, New Jersey, and its software was created by the North American software provider Bet.Works.
Since this app is newer than most of their competition, they have the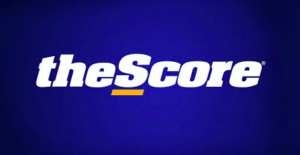 incentive to offer their members very lucrative promotions so that some of the bettors from their competitors' sites will switchover. Throughout this review, we will investigate how they structured their bonus promotions program as well as what types of sports and banking options their members have to choose from so that you can make an informed decision on whether or not you want to join.
Sports, Leagues, and Betting Markets Available
TheScore Bet offers eleven different markets to place wagers on which is far below the average amount for a New Jersey online sportsbook. On the bright side, they are the only sportsbook in New Jersey to allow their users to wager on bull riding. The following list represents all of the markets available for wagering at theScore Bet Online Sportsbook New Jersey:
• American Football (NCAA and NFL)
• Baseball
• Basketball
• Bull Riding
• Golf
• Hockey
• MMA
• Motor Racing
• Rugby
• Soccer
• Tennis
At the top of the sports tab, the app lists all of the featured leagues that have contests coming up in the near future and have attracted the most wagers. The markets that include the most leagues to wager on are soccer (8 leagues), motor racing (5 leagues), baseball (4 leagues), and basketball (4 leagues). As you may have expected, there is only one bull riding league.
Live Betting
To make a live bet on a sporting event that is currently running you simply need to click on the "Live Bet" button at the bottom of the app's home screen. TheScore Bet Online Sportsbook does not currently support live bets for all of their markets but they do offer them for all of the most popular North American sports such as basketball, football, and baseball.
Once you find an event that you wish to bet on you just need to click on its box to see all of the available wagers for that contest. We should warn you that quick decisions are necessary when live betting since many available wagers often disappear within a few seconds.
Live Streaming and Play-by-Play
There is no live streaming or play-by-play feature built into theScore Bet's mobile app, but they have a separate app called theScore Media app which does give play-by-play updates as well as live betting odds for every sporting event. A great feature of theScore Media app is that you can begin creating your bet slip while you browse through their real-time scoring and odds updates.
Once you find a live wager that you like you can mark it in theScore Media app and then switch back to theScore Bet Online Sportsbook app where your selection will already be highlighted for you. This is the only play-by-play feature in the New Jersey market that incorporates a cross-platform wagering experience using two different apps.
Mobile Betting
Wagering on sporting events from a computer browser such as Google Chrome is not possible on theScore Bet Online Sportsbook New Jersey so your only choice is to download their mobile app. Once you download theScore Bet's mobile app you will be able to make a new account and deposit funds even if you are not currently located in New Jersey. After you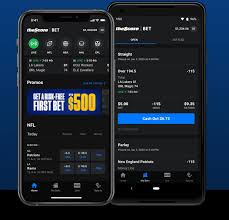 have crossed state lines, you will then be able to place wagers on any sporting event of your choice.
To download the app using an iOS device such as an iPad or an iPhone, you simply need to search for "theScore Bet Online Sportsbook" in the App Store and click the download button. If you have an Android device, you can download the app by clicking on the "Download For Android" button at the bottom of theScore Bet's homepage.
The coolest part of this mobile app is that you can utilize the Face ID or Touch ID features to log-in using your face or fingerprints. This security measure ensures that no one else can access your account and it works for both iOS and Android devices.
Cash Out Bets
This special feature allows you to end your wager early in exchange for a smaller payout. The closer the projected outcome is to your original prediction, the higher your payout will be. For instance, if you wagered on the Tampa Bay Buccaneers with a -7 spread and they are up 40 points you will get paid a lot more than if you ordered a cash out when they were down 20 points.
All you need to do to order a cash out is click on the "My Bets" tab and click on the "Cash Out $$$" button. Cash outs will not always be available for every sporting event and you will never be able to order one if you used a free bet to make your wager.
Welcome Bonus and Other Promotions
New players at theScore Bet Online Sportsbook New Jersey qualify to claim a risk-free first bet for up to $500. For instance, if you wager $400 on an event and the side that you picked loses then you will receive your $400 back in the form of a free bet. The only rules are that the original bet you make must have a maximum of +300 odds and your free bet must be used within seven days.
A bonus that keeps on giving every week is the Weekly $5 NFL Future promotion that requires you to wager at least $50 on the winner of the Super Bowl. Once you have made this wager you will receive a $5 free bet for every remaining week of the NFL season, even if you made your futures bet after the season has started. Each $5 free bet must be used on a wager that has a maximum of +300 odds within seven days of receiving the bonus.
There are two different $1,000 cash back promotions; one for new users and one for existing users. These bonus funds will be released whether your bet wins or not at a rate of 5% of the wager whenever the payout odds are greater than -300. For instance, if you make a $100 wager on the Chicago Bulls at -200 odds to win their game you will receive $5 in cash back into your account. Whether you are a new user or an existing user, you will have until 60 days after your deposit to unlock as much of the cash back bonus as possible before any unlocked bonus money will be forfeited. Both the new user and existing user cash back bonuses may be claimed only once for a possible total of $2,000 in cash back.
Banking Options
There are currently five different deposit methods and three different withdrawal methods available at theScore Bet Online Sportsbook. This selection is much smaller than most online sportsbooks in New Jersey but as long as you have a bank account you should be fine.
All of the banking options come with a $10 minimum limit and the maximum monthly deposit limit for all accounts begins at $10,000. The maximum daily, weekly, and monthly deposit limits can be reduced by clicking on the responsible gaming option found in your account cashier. In the sections below, we will go into more detail on each available banking option.
Credit and Debit Cards: The plastic cards that are accepted here include Visa Card, MasterCard, and Discover Card. Some of the banks that will not allow you to deposit using your debit card include Chase Bank, Bank of America, and Capital One. If you encounter this issue, you can simply use your card to load funds onto your theScore Play+ Prepaid Card.
theScore Play+ Prepaid Cards: After you apply for one of these cards that are issued by the Bank of George you will receive it in the mail within 10 business days. Once it arrives, you can use your debit card to load funds onto the Play+ card which can then be used to deposit funds into your theScore Bet account. You will always have easy access to your sports betting earnings with these cards since they can be used anywhere that Discover Cards are accepted. Withdrawals with these cards can take up to 72 hours to be processed.
ACH (E-Check): The main advantages of using an e-check instead of a debit or credit card are that you will not have to enter your banking information every time you want to deposit funds and they can also be used to withdraw funds. Withdrawals using this method will take up to 3 business days to complete.
Cash at Cashier Cage: Any deposits or withdrawals can be done using the cashier cage at the Monmouth Park Racetrack in Oceanport, New Jersey. This represents the only banking option on theScore Bet Online Sportsbook New Jersey that will facilitate your transactions using cash. All transactions using this method are done by appointment only so you will need to contact customer support first by calling 1-855-916-0077 or by using the in-app live chat feature to schedule one.