FanDuel is a brand that most people associate with Daily Fantasy Sports (DFS), and rightly so given that the company was originally founded in 2009 specifically as a DFS provider. The New York City-based company grew its reach to such a point that it was eventually acquired, in 2018, by Irish bookmaker Paddy Power (Betfair). It was at this point that the newly-formed company (which retained the FanDuel name and brand) set its sights on the newly-created legal and regulated sports betting market in the United States.
FanDuel operates sportsbooks in a few states at this point, but it started out in New Jersey during November of 2018.
Company Background and Licensing Information
FanDuel is without a doubt a household name by now, having taken the US DFS and sports betting markets by storm. In New Jersey, the company officially launched operations on the first day of November in 2018. As far as FanDuel's reputation is concerned, there should be nothing to worry about seeing as FanDuel's parent company—now Flutter Entertainment—is a publicly traded company, listed on the London Stock Exchange. All things considered, FanDuel is a wholly legitimate company with a sterling reputation.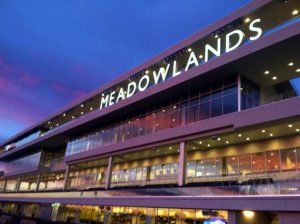 In New Jersey, state law mandates that any and all online sportsbooks be anchored to a physical betting location, such as a racetrack or casino that has been licensed for gaming. While many of New Jersey's sportsbooks are linked to brick and mortar casinos in Atlantic City, FanDuel is anchored to The Meadowlands Racetrack in Northern New Jersey, not too far from New York City.
Sports, Leagues, and Betting Markets Available
Straight from the offing, it is clear to see that FanDuel is very much a US-based and US-centric sportsbook. The homepage is dominated by the most popular betting markets, almost all of which are US sports leagues and competitions. In fact, the homepage lists "Popular" betting markets that include leagues and competitions like the NBA, NHL, NFL, and college basketball. Directly below the listing of popular betting markets will be a complete, A-Z list of all sports markets available. Though the individual leagues available will be dependent upon which are in-season and which are in the off-season, however all sports available on FanDuel New Jersey sportsbook are as follows:
-Australian Rules (Football)
-Baseball
-Basketball
-Boxing
-College Basketball
-College Football
-Cricket
-Darts
-Football
-Golf
-Hockey
-MMA
-Motor Racing
-Rugby
-Soccer
-Tennis
In terms of league and competition coverage, you can rest-assured that American-based leagues and events will take precedence. Basketball, for example, features coverage of the NBA, Euroleague, and select other competitions around the world. With that said, Euroleague betting options are a good bit lighter than those you will find for NBA games. NBA games will feature all sorts of player and team propositions, while Euroleague games might only have moneyline, spread, and totals (over/under) betting lines. This is a theme that is repeated when talking about hockey, baseball, and most other major sports.
Live Betting
Live betting is a staple of FanDuel and there is a tab right on the homepage that will take you directly to the ongoing live events. The available sports will be listed at the top so that you can easily navigate to find the specific event upon which you would like to bet.
Generally speaking, live betting at FanDuel New Jersey is focused primarily on American sports and the most high-profile events taking place elsewhere around the world. In terms of the NFL, NBA, NHL, MLB, and Basketball/Football, you can rest-assured knowing that most, if not all, events will be available for live betting. As the sports become "less American" (ie. Rugby and soccer), you will notice that live betting is found few and far between. Soccer, for example, leaves a lot to be desired. FanDuel has just about every competition in the world available for pre-match betting, but live betting markets are typically restricted to the bigger European leagues and competitions, such as the UEFA Champions League and English Premier League.
Live Streaming and Play-by-Play
FanDuel sportsbook has established partnerships with companies that allow them to stream or provide play-by-play updates for live events, bringing a whole new element to live betting. IMGArena has teamed up with FanDuel to allow live streaming of certain events, primarily National Hockey League games. In addition, events that are not live streamed will boast a feature that provides relevant game updates, such as who is on offense, what players are recording specific stats, and so on.
This is one of the many things that helps FanDuel stand out from an increasingly crowded New Jersey online sportsbook industry. In addition, these features are available on FanDuel NJ's desktop site as well as the mobile app. An important note worth making is that, specifically as it relates to NHL live streams, local and national broadcasts will be blacked out. This means that the New Jersey Devils and Philadelphia Flyers (and potentially even New York teams, for those living/located in Northern New Jersey) games will more than likely not be available to be streamed.
Mobile Betting
Being that far more people place wagers from their phone than they do from a computer or laptop, it goes without saying that FanDuel New Jersey sportsbook also offers a mobile application that is compatible with both Android and iOS devices. Despite what conventional thought might lead you to believe, the apps will not be available from the app market. Rather, they can be downloaded to your device directly from FanDuel's site.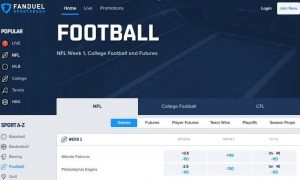 In just about every way, the mobile application is an exact replica of the desktop site. All betting markets (including live betting) are available on the app. In fact, you can even make deposits and withdrawals directly from a mobile device.
New Jersey state law mandates that all sports bets be placed from within the Garden State, so the mobile application will only work if GPS location services are enabled. If the app cannot verify your location, no wagers will be able to be placed. This is also true on a computer or laptop.
Odds Boosts
Something unique to FanDuel is the existence of Odds Boosts. Simply put, Odds Boosts are typically parlay-style wagers that FanDuel assigns odds that are almost too good to say no to. As the name of the wager implies, FanDuel boosts the odds to increase the potential payout and attract more bettors. An example of an NBA Odds Boost at Fan Duel would be as follows:
Jayson Tatum to score 25+ points and Celtic to win: WAS (+310), NOW (+420)
Odds Boosts wagers at FanDuel New Jersey are available for most popular sports leagues and they change on a daily basis. A full listing of the available Odds Boosts can be found on the homepage adjacent to the "Live" and "Popular" tabs.
Welcome Bonus and Other Promotions
For new players who have just created an account and deposited, FanDuel's welcome bonus comes in the form of a risk-free bet. Once you make a deposit, FanDuel will apply the risk-free wager to your very first sportsbook bet. If your wager ends up being a loser, FanDuel will refund the exact wager amount back to your playable balance. Usually the refund is credited in the immediate wake of a losing first wager, however it can take up to 24 hours, according to FanDuel's terms. What makes this welcome bonus so popular is the fact that it carries only a 1x playthrough requirement (if your bet loses). This means that if you place a $50 wager as your initial bet and lose, you will need to place an additional $50 worth of wagers before any funds are eligible for withdrawal. If your bet is a winner, there is no playthrough requirement whatsoever.
FanDuel runs plenty of other promotions, most of which mandate the placing of a wager in order to opt-in. For example, an XFL Live Bet Bonus was offered where a player would receive $25 in site credit for placing a live XFL wager of $50 or more. FanDuel's promotions are a bit different than what you might be used to from other sportsbooks, but they are also fun, engaging, and changing all the time, so there is something for everyone.
Banking Options
As you might expect from a legal and regulated New Jersey sportsbook, FanDuel NJ has plenty of banking methods, all of which are simple to use. What's more, there is an added convenience in the fact that most deposit methods can also be utilized when the time comes to withdraw winnings.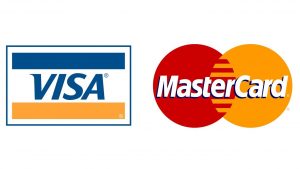 The available banking methods at FanDuel New Jersey, along with a brief explanation as to how they can be used, is available below:
Credit/Debit Cards: Most major credit and debit cards are accepted by FanDuel Sportsbook New Jersey for deposits only. It is important to note that while this method is easy to use, your bank may restrict you from depositing due to their policies regarding gambling.
FanDuel Prepaid Cards: Powered by Discover, FanDuel (Betfair) prepaid cards allow players to both deposit and withdraw funds. You are required to set up a card and complete a deposit before you are able to withdraw via a FanDuel prepaid card, but once the card has been set up you can withdraw winnings quickly and easily from any ATM.
ACH (E-Check): An ACH or E-Check, sometimes referred to simply as a bank transfer, is a simple and easy method of both depositing funds and withdrawing winnings. All you need is your bank account and routing numbers in order to execute a deposit/withdrawal.
Online Bank Transfer: Another form of online bank transfer utilizes your bank account's "bill pay" function to make a deposit only. In order to execute this type of deposit, you will need your online banking login credentials (not an account or routing number).
PayPal: PayPal is available for both deposits and withdrawals, however you can only withdraw funds to a PayPal account that has previously been used to execute a deposit.
Checks: A mailed check is another method whereby a player can both deposit and withdraw.
Cash at Counter: For those who live or are in close proximity to The Meadowlands Racetrack, you are able to both deposit and withdraw funds directly from the Cash Counter window located there. Deposits will typically show in a player's account within one hour, while withdrawals are processed instantly.
FanDuel also operates an online sportsbook in Pennsylvania. Read our full review here.