PointsBet is a digital sportsbetting company that was founded in Australia and has partnered with NBC Universal to provide a high-quality product for gamblers in many areas of the world. They are the sportsbook partner of the Indianapolis Colts NFL team and they are also famous for being the only legal sportsbook in the US that offers an innovative and high-octane bet type known as PointsBetting.
PointsBet began offering an online sportsbook for those who are located in the state of New Jersey in January of 2019. They also operate an online sportsbook in Indiana, Iowa, and Illinois with plans to add Colorado, Michigan, and many others to the list in the near future. In this review, we will focus solely on their New Jersey operation and compare the various features of their site to the local online sportsbook competition in that state.
Sports, Leagues, and Betting Markets Available
There are 18 different markets to choose from when wagering on PointsBet Online Sportsbook which is slightly above average compared to

their competition in the New Jersey area. The markets that they offer which you will not normally find elsewhere include cycling, entertainment, and E-sports. Below you will find the full list of markets available here:
• American Football
• Australian Rules Football
• Baseball
• Basketball
• Boxing
• Cricket
• Cycling
• Darts
• Entertainment
• E-Sports
• Golf
• Hockey
• MMA
• Motor Racing
• Rugby
• Soccer
• Table Tennis
• Tennis
The majority of their featured events are from markets such as baseball, basketball, and football since these are the most popular sports in the US. However, they also made sure to have a significant wagering selection for international competitions since you will find many soccer league options that originate from 44 different countries such as Australia, Brazil, Japan, England, and Germany. Another great example of this international exposure is seen in their tennis selection which offers wagers on French, German, Italian, and Romanian events.
Live Betting
Live betting is available on PointsBet Online Sportsbook and can be accessed by clicking on the "In Play" option at the top of the main menu. The in-play homepage will show all of the different markets that have events currently running at the top of the page with a number next to each market that indicates exactly how many events are available for that particular market.
On the right side of the in-play lobby, you will see a "Next Up" column which lets you know what events are going to be starting soon and how much time is remaining until they begin. Once you have selected a live event that you wish to bet on you will be brought to a page that shows all of the different wagers that you can possibly make for that specific event. If the wagers are eligible for the cash out feature which allows you to end a bet early for less of a payout you will see a "CASH OUT $" symbol above that selection.
Live Streaming and Play-by-Play
There is no live streaming option available on PointsBet Online Sportsbook which is a normal occurrence in the New Jersey market. If you normally like to watch the games that you bet on, you should make sure it is going to be shown on one of your local television stations or that you have access to an internet broadcast.
There is also no play-by-play feature on PointsBet Online Sportsbook, which puts them behind their New Jersey competition since most other sportsbooks in this area do offer this feature. The only information you will be able to see when clicking on a live event that is currently running is what the score of the event is and how much time is remaining.
Mobile Betting
Betting from your mobile device is easy as long as you have a modern Android or iOS device with internet access so that you can download the app. Once you have the app on your mobile device, you will have full access to the sportsbook in addition to having the ability to make banking transactions or create a new account (as long as you are located in the state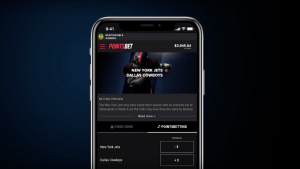 of New Jersey).
To download the app using an iOS device version 9.0 or higher, you simply need to search for "PointsBet: Sports Betting" in the App Store. This app is free of charge, takes up a total of 68 megabytes, and has a 4.6/5.0 user rating after 1,200 user votes. If you have an Android device, you can download the app by navigating to the bottom of the PointsBet Online Sportsbook homepage and clicking on the "Download for Android" button.
Odds Boosts
Odds Boosts are just like regular bets except if you win you will get paid more than normal thanks to the payout odds being "boosted". These generous bets are a great way to grind up a bankroll and we highly recommend betting the maximum amount possible which is usually set at $50. You will not be able to boost odds on parlay bets unless you do a Parlay Booster which is a new exclusive feature on PointsBet.
One of the featured odds boosts on PointsBet is the Devin Hester House Calls Super Booster which gives +110 odds instead of the usual -200 that any kick in a specific NFL game will be returned for a touchdown. Many of the other boosted bets change from week to week with various matchups and markets being featured.
PointsBetting
PointsBetting is a very unique and high-variance form of wagering that exists only on PointsBet Online Sportsbooks. The way it works is that you make a wager on a specific line and your win or loss amount fully depends on how badly you beat or lost to that line.
For instance, if you wager $10 on the Los Angeles Lakers who are favored over the Miami Heat by 7 points and they win their game by 10 points, you will win $30 or 3x the amount that you wagered. Conversely, if they only win the game by 4 points you will lose $30 or 3x the amount that you wagered.
Cash Out Bets
If you do not like the way your bet is going or you just want to collect your winnings on a bet that is going well before the tides turn then you can ask for a cash out on most main market events. These bets will allow you to receive a percentage of your original payout in exchange for ending the bet right there and the better your bet is doing the higher that payout percentage will be. The presence of cash out bets does not set PointsBet apart from other online sportsbooks in the New Jersey area since most of them offer this feature.
Welcome Bonus and Other Promotions
Signing up for a new account on PointsBet Online Sportsbook New Jersey instantly makes you eligible to claim two separate free bet bonuses of up to $500 each. The first $500 free bet will be rewarded if you lose your first fixed odds bet and the second $500 free bet will be rewarded if you lose your first PointsBetting bet (See the section above to find out what PointsBetting is). We highly advise taking full advantage of both of these wagers since they give you free chances to spin up a large bankroll risk-free. The best part about this welcome bonus is that there are NO ROLLOVER REQUIREMENTS which is a breath of fresh air in an industry that only allows you to collect your free money after you wager it a bunch of times.
The best NFL promotion to take advantage of every week is the Make It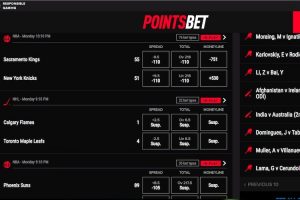 Rain bonus which rewards you with $6 every time a team that you bet on makes a touchdown. The only rules are that you must wager at least $25 on that team in a spread line bet and your wager must not be part of a parlay. This promotion is only available on specific games each week so you should be sure to check the Make It Rain schedule so you can plan your attack accordingly. There are many similar promotions available for other sports depending on what season it is that will pay you extra money every time the team you wager at least $25 on scores a goal, three-pointer, or homerun.
If you have a lot of friends who like to bet on sports then you can turn that situation into a ton of free money using the $200 refer a friend bonus. You can claim this bonus up to 3 times for a total of $600 as long as your friends successfully meet the requirements. Each friend you refer will need to make a minimum first deposit of $50 and a minimum first bet of $20. As the referrer, you will need to have deposited and wagered at least $1,000 since you created your account and you will have to be a member of the site for at least 14 days before you can begin referring players.
Name A Bet is another unorthodox promotion that allows you to ask PointsBet to create a new bet that doesn't already exist. Once you get their attention on Twitter by tweeting @PointsBetUSA using the hashtag "#NameABet", they will create the bet for you and come up with odds that they think are fair for that bet. The only rule is that you must request your bet to be made at least two hours before the event starts.
The PointsBet Rewards program offers frequent bettors a chance to accumulate some Rewards Points in exchange for their wagering activity. You will receive 1 Rewards Point for every $5 in fixed odds bets, 1 Rewards Point for every $1 in parlay bets, and 1 Rewards Point for every dollar you ever won or lost using the PointsBetting feature. These Reward Points are then transferrable into free bet bonuses, not cash.
Banking Options
PointsBet offers fewer banking options than other sportsbooks in New Jersey do but there is still enough that you should be able to find one that works for you. The main banking options that are lacking here are Skrill as well as a live casino cashier cage.
Credit and Debit Cards: Visa Card and Mastercard are the two plastic options that are listed on the PointsBet website and these can only be used to deposit funds into your account. These are the most popular options due to how easy it is to use them and most people have one of these cards on hand at any given time.
ACH (E-Check) and Online Bank Transfer: These two options represent the online banking methods that you can use without having one of the plastic cards listed above. Just like in other online casinos, ACH E-Checks can be used for both deposits and withdrawals and come with no fees attached whatsoever. If you do not have a bank account you will not be able to use these options.
PayPal: This handy e-wallet is very popular amongst online gamblers and once you connect it to your bank account it is easy to complete deposits or withdrawals. The only catch is that you will need to make a deposit using PayPal before you are eligible to make a withdrawal using their services. Withdrawals usually take between 2-4 business days to process and do not come with any fees attached.
PayNearMe: This banking option can only be used for deposits and to complete a transaction you will need to visit your local participating 7-11 convenience store. Be sure to bring along your government ID as well as the barcode that corresponds to your transaction which you will receive when you initiate the transfer in your PointsBet account cashier.