The state of New Jersey has always been at the forefront of sports betting in the United States. Governor Chris Christie pushed for sports betting legislation in the state as early as 2012 and, after an ongoing legal battle over the Professional and Amateur Sports Protection Act of 1992, Christie was able to help persuade the Supreme Court to lift the ban on sports betting throughout the United States in 2018. These efforts paved the way for New Jersey to pioneer sports betting–both online and in Atlantic City's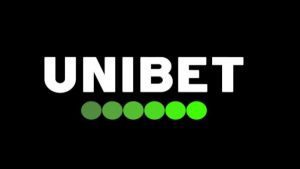 casinos–in the country, with the help of industry-leading companies like Unibet.
With more than 20 years of experience, Unibet launched their New Jersey online sportsbook in September of 2019. Since then, the company has established itself as an industry leader, partnering with the National Hockey League's New Jersey Devils and partnering with Hard Rock Atlantic City. In the following sections, we take a look at how Unibet operates their online sportsbook, and how their offerings, mobile app, and promotions compare to other sportsbooks.
Company Background and Licensing
Unibet is a publicly traded online gambling company run by the Kindred Group. The company was founded in 1997 by Anders Ström, who built the company out of his passion for sports betting. Unibet received a license to operate in the UK in 1998 and in the same year began taking its first bets over the phone. The company's first website launched in 1999, and by 2004 Unibet's site supported 12 different languages and served more than 300,000 registered customers across 100 countries. Today, Unibet is headquartered in Malta, and serves sports betting customers across the globe.
Unibet's parent company, the Kindred Group, upholds the highest standards for gaming in the countries they operate in. According to their website, Unibet online sportsbook NJ is "authorized by the State of New Jersey, Division of Gaming Enforcement in accordance with the Casino Control Act." Under New Jersey law, online sportsbooks are required to be linked with and operate under an established brick-and-mortar casino. For these purposes, Unibet has partnered with one of the most reputable casino brands in the country: Hard Rock Hotel & Casino Atlantic City. This holds Unibet to the same gambling standards as the Hard Rock Casino. Under these regulations, all players must be 21 or older and must be playing in the state of New Jersey in order to place wagers at Unibet online sportsbook. These regulations also guarantee that all wagers and bettors are treated fairly and in accordance with state laws.
Sports, Leagues, and Betting Markets Available
Unibet online sportsbook offers a wide variety of sports betting options that players will have come to expect from such a reputable company. Despite the fact that they are a European-based company, Unibet does an excellent job of not only providing popular lines for American sports but prioritizing them on their site. Bettors will have no problem finding popular lines for NFL, NBA, NHL, MLB, MLS, and even collegiate sports. In addition to these American favorites, Unibet also offers a wide array of foreign competitions.
Unibet offers lines for the following competitions:
-Football
-Basketball
-Tennis
-Soccer
-Baseball
-UFC/MMA
-Cricket
-Cycling
-Darts
-Golf
-Motorsports
In addition to their wide coverage of competitions, Unibet also offers a wide range markets within each competition. For example, within a single soccer match, players can choose from over 150 different wagers. For example, most soccer matches feature player and team props, including goal scorer propositions. UniBet is unique because not only can you wager on whether a player will score at any point within the match, you can even bet on whether he or she will score the first or last goal of the match. The examples of individual prop bets go on and on, but suffice it to say that a selection this extensive does more than enough to satisfy the needs of any bettor.
If there is anything on Unibet's sportsbook to be critical of, it is the presentation and organization of their homepage. At first glance, the home page looks overwhelming, as it consists of different betting selections based on upcoming or live events. These events are presented in what appears to be arbitrary widgets featuring "Trending" bets, "Highlights," "Starting Soon," and a number of other featured events. While these select events do seem to cover some of the most popular events and lines for players, the presentation is confusing and seems random and out of place.
The confusing homepage sticks out like a sore thumb on a sportsbook that is otherwise well-organized with a wide variety of sports betting options. To avoid the confusion of the homepage, players can direct their attention to the menu on the left-hand side of the site. This menu does a good job of organizing the available betting options in a much more accessible manner, including options for "Live Right Now," "Starting Soon," "Popular," and "All Sports." The search function, located at the top of the page, also helps players find exactly what they are looking for. From these options, you can guarantee Unibet offers lines for just about any contest you would want to bet on.
Live Betting
Unibet's live betting puts you right into the action while providing you with real-time updates and even streams for some of the events you are wagering on. These features are a welcomed complement to the extensive betting options available for live contests.
Players can easily locate the live betting section, as it is listed directly under the "Home" selection on the menu located on the left-hand side of the site. Any contest that you can find for pre-match wagering on Unibet sportsbook can also be found, once the contest has started, under the live betting section. Their live betting typically features 50 or more wagers for each contest, making it an enticing option for anyone looking to jump right into the action. Unibet also features a unique live feed of play-by-play action for individual contests, and even offers live streams on a number of events. This is an excellent feature for anyone looking to make informed live betting decisions and makes the live action available at the touch of a button.
Mobile Betting
Unibet's mobile app is available for both Apple iOS and Android devices. Users with iOS devices can simply download the app from Apple's App Store. Android users must use their mobile device's web browser to visit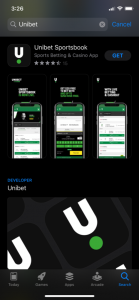 Unibet's website. From there, they must follow the link to download the app for Android, as Google Play Store does not feature any real money gambling apps. Both apps require users to activate locations services so that Unibet can ensure that all players are playing within the state of New Jersey.
The mobile app makes it easy for players to create an account or login to an existing one to dive right into the action on the go. It does appear that Unibet's mobile app is for both their sportsbook and casino; players can easily access the sportsbook by clicking the drop-down menu in the top left corner and selecting "sports." The clunky and confusing widgets that appear on the sportsbook's website do not translate to the app, making it easy for bettors to navigate the available lines and pick the most popular contests and bets that are available. Like the site, the drop-down menu on the left-hand side will be your best friend when navigating the available lines.
Unibet's mobile app offers the same range of betting options as their online sportsbook. This includes their live betting options and streaming when it is available.
Odds Boosts
Unibet does not offer boosted odds on specific bets like competitors FanDuel and DraftKings. However, they do offer a unique weekly parlay boost that allows players to build a parlay of their choice. Under this promotion, players can earn up to a 30% profit boost, depending on the selections they make.
Under Unibet's Weekly Parlay Boost, players can create a 3-way parlay for a 10% profit boost, a 4-way parlay for a 20% boost, or a 5-way parlay for a 30% boost. In order to qualify for this promotion, your parlay must include selections with -500 odds or greater. Players are able to claim one boost per tier each week. This promotion caps all winnings at $5,000 and carries a maximum stake of $25. Players do not need to opt-in for this promotion and anyone can take advantage of these boosted odds every week. This is an exciting and unique way for players to try their hand at selecting winning parlays each week.
Other Promotions
At first glance, it may seem that Unibet's new player offers pale in comparison to competitors who offer refer a friend bonuses or other new player promotions. Apart from the Weekly Parlay Boost, the only other promotion that Unibet features is their New Player Offer. Upon closer examination, players will be pleased to find that this promotion is essentially a two-for-one deal that gives them the opportunity to place two free bets in addition to a risk-free bet.
The New Player Offer is available for all registered players. The first portion of this offer gives new players two free $10 bets on the sport of their choice. This type of free money bet is one that would appeal to any new player. The second portion of this promotion offers players a risk-free bet on their first cash wager at Unibet. This risk-free bet has a minimum required odds of -115. Under this promotion, players can place a cash wager up to $250 and if their wager loses Unibet will refund their bet in full. The risk-free bet has $10 minimum and refunds are processed with in 72 hours of losing the bet.
While, the promotions section seems lacking at first glance, the New Player Offer does plenty to engage new players by giving them money to play with right when they create their account.
Banking Options
As a reputable online sportsbook, Unibet offers a range of banking options for players. Deposits at Unibet can take up to 24 hours to complete, depending on the source of funds, and withdrawals can take up to five business days to process. Unibet offers the following banking options for registered players:
Credit/Debit Card: Unibet accepts all Mastercard and Visa credit/debit cards. To use this method players must simply provide their card information. Keep in mind that some credit card issuers do not accept online gaming transactions.
ACH e-Check: One of the most popular methods across all sportsbooks, ACH e-check is a secure method for depositing and withdrawing funds. To use this method, players must link their personal bank account to their account and can begin transferring funds immediately.
Online Bank Transfer: To use this method, players must enable "Bill Pay" with their checking or savings account. Select this method through Unibet Sportsbook's cashier. After selecting your bank, you will be prompted to enter your online banking user ID and password. This method can only be completed with the following banks: Bank of America, BB&T, Chase, HSBC Bank USA, ING Direct, PNC, Regions, SunTrust, TD Bank, U.S. Bank, Capital One 360, or New York Community Bank.
PayNearMe: This method allows you to visit local a participating 7-Eleven, Family Dollar, or CVS in the state of New Jersey to deposit via the cashier. Players must log into their account and print their personalized barcode before visiting the participating the store. By presenting their barcode, players can deposit via the store's cashier and their funds will become available within 30 minutes. This method has a minimum $10 deposit and a $500 daily limit.
PayPal: Note that to use this method you must have personal PayPal account. Simply enter the email associated with your PayPal account and you will be redirected to confirm your information through PayPal. You can only deposit via PayPal if you have an active bank account linked to your account. You can only link one PayPal account to your Unibet sportsbook account.
Unibet Prepaid Play+: This pre-loaded card makes depositing and withdrawing fast and easy for players. Think of this option as a Unibet debit card. Any player can get a Unibet Prepaid Play+ card by signing up through the cashier. The card will be mailed to you within 10-14 days. This card can be used wherever Discover is accepted.