DGMB Casinos is a company that is known for its land-based operation named Resorts Casino which was founded in 1978 and was the first legal casino in the USA to not be located in Nevada. They then stretched their operation out to the internet by offering an online casino but thanks to recent changes in the gambling laws of the state of New Jersey they were able to launch their online sportsbook in January of 2020.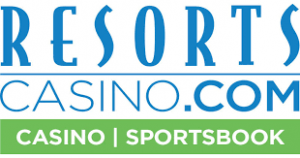 Anyone who is located in the state of New Jersey can partake in the betting action on Resorts Online Sportsbook without any legal repercussions which means that you do not have to be living in the state. To help you find out whether or not you want to participate in this sportsbook the following review will compare their various features to other sportsbooks in New Jersey and educate you as much as possible as to what they have to offer before you deposit your own hard-earned money.
Sports, Leagues, and Betting Markets Available
There are a total of 18 different markets that you can wager on at Resorts Online Sportsbook which is an above-average amount for a legal sportsbook in the New Jersey area. Some of the markets seen here that are not always found elsewhere include cycling, E-sports, and volleyball. The following list represents all of the markets available:
• American Football
• Australian Rules Football
• Baseball
• Basketball
• Boxing
• Cricket
• Cycling
• Darts
• E-Sports
• Golf
• Hockey
• MMA
• Motor Racing
• Rugby
• Soccer
• Table Tennis
• Tennis
• Volleyball
While the variety of markets is impressive, the number of leagues offered here for various sports is even more mind-blowing. For instance, you will find 94 soccer leagues, 15 tennis leagues, 10 basketball leagues, 4 hockey leagues, and 4 baseball leagues to choose from. This level of international exposure is probably not appreciated by Americans as often as it should be but it is still great to see Resorts put all of that effort into including so many different contests in their sportsbook.
Live Betting
To access the impressive live betting options that are offered here you simply need to visit the main lobby of the sportsbook and click on the Live Betting link in the upper left-hand corner of the screen. This will bring you to the "Overview" screen which lists all of the markets that currently have live events happening as well as all of the events that are currently running.
To see additional options such as prop bets for each event you can click on the rightward-facing arrow with a number next to it on the right side of each event's listing. The number represents all of the different bets you will find by clicking on this menu. Once you select the wager of your choice it will appear on the Bet Slip on the right side of the screen where you can then approve your bet to be completed. To see a full schedule of all of the upcoming live events each day just click on the "Live Schedule" link at the top of the page.
Live Streaming and Play-by-Play
Unfortunately, there is no live streaming option available at Resorts Online Sportsbook New Jersey. However, there is a play-by-play feature which you can access by clicking on the "Event View" link at the top of the live betting lobby. This play-by-play option is very primitive compared to other sites since all you will be able to see is how much time is remaining in the event and what the score of that event currently is.
Mobile Betting
The mobile app for Resorts allows you to access both their online sportsbook and their online casino. With this speedy app, you will also be able to access your account cashier as well as the live betting options of the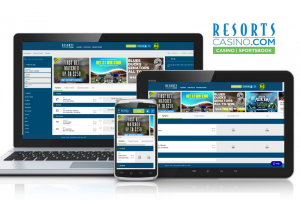 sportsbook with ease.
When using a mobile device you can access the Resorts Online Sportsbook either through your web browser or by downloaded the app. Those who are using an iOS device such as an iPad or an iPhone you can find the app listed in the App Store. If you are using an Android device you will need to visit the website for the Resorts Online Sportsbook and download the app from there.
Welcome Bonus and Other Promotions
Once you have created a new account on Resorts Online Sportsbook you will need to make your first deposit which we recommend to be at least $250 so you can take advantage of their free bet welcome bonus. This new player promotion allows you to receive your first bet back if it is a loss all the way up to $250. To clarify, if your first settled wager of $100 is a loser you will receive $100 back and if your first settled wager of $1,000 is a loser you will receive $250 back. The refund money that you receive will come in the form of a free bet token and this token must be used before the expiry time that is stated in the free bet section of the sports page.
Fortunately, there is a promotion that does not require you to risk any funds in order to receive some extra betting money and it is known as the Super Pick'Em. This contest requires you to pick who will win each upcoming NFL game and there is a total of $35,000 in prizes up for grabs which is quite impressive for a free promotion. If you happen to start playing during the middle of the season there is no need to get discouraged since you can still win prizes on a weekly basis by getting the most picks correct for each week.
Another promotion that Resorts Online Sportsbook offers their bettors is the weekly free bet which can earn you $5 per week for a total of $260 in free bet credits per year. All you need to do to qualify for this $5 free bet each week is make at least 10 wagers where you risk more than $1 on each wager. For the purposes of this promotion, the week will start at 12:00 am on Friday morning and your free bet will be credited to your account within 48 hours of the week ending.
Last but not least, the Resorts Rewards loyalty program offers frequent gamblers in both the sportsbook and the casino a way to collect some extra funds for their risk-taking abilities. For every $2 you wager in the sportsbook you will receive one Rewards Point which eventually improves your VIP status once you collect enough of them. Every player starts at the Bronze Level of the Resorts Rewards program and there are eight total levels to attain including Silver (500 Rewards points), Gold (2,000 Rewards Points), Platinum (7,500 Rewards Points), Diamond (20,000 Rewards Points), Echelon (75,000 Rewards Points), Echelon Plus (200,000 Rewards Points), Echelon Elite (750,000 Rewards Points), and Echelon Black (by invitation only). The higher your Rewards level is, the better the exchange rate will be for your Rewards Points since Bronze level players will receive $1 for every 2000 Reward Points they earn while Echelon Black Level players will receive $1 for every 67 Rewards Points they earn. You should always redeem these points as soon as possible since they will expire if your account is inactive for three months.
Banking Options
Resorts Online Sportsbook features seven different types of banking options that you can use to deposit funds and four different banking options for withdrawals. There are no fees charged by the sportsbook for using any of the banking options although it is not uncommon for banks to charge a small fee if you use one of the credit or debit card options. There is also no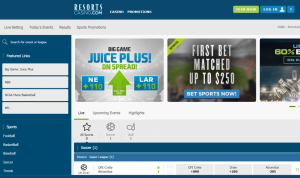 risk of losing your funds in the middle of a transaction or not receiving a withdrawal request since this is a fully legal online sportsbook that is regulated by the New Jersey Division of Gaming Enforcement.
Credit and Debit Cards: Visa Card and MasterCard can be used to make deposits but they cannot be used to make withdrawals. The maximum deposit limits for these cards are set at $1,000 per transaction and $3,000 per day. This is the most popular deposit method since most people have a credit card or a debit card handy and once you input the card information you can deposit money instantly.
Resorts Play+ Prepaid Cards: This payment option is a lot like the debit card option described above but you can also use it to complete your withdrawals. These cards can be utilized to shop online, shop offline, or take money out of any PULSE or NYCE network ATM. You will need to load your Resorts Play+ card using your bank account, Visa Card, MasterCard, or Discover Card. The main advantage of using these cards is that you will be able to receive your withdrawals instantly while other withdrawal methods will make you wait days.
ACH (E-Check): The best way to deposit funds using your bank account is to use an ACH E-Check which can also be used to withdraw funds from your Resorts account back to your bank account. To enroll in this option you need to access your account cashier and then click on the "Enroll" button next to the VIP Preferred option. Each account has its own individual ACH E-Check transaction limits which can be found in the VIP Preferred section of the cashier.
Online Bank Transfer: If you do not want to use an E-Check to deposit funds from your bank account then your next best option is to do an Online Bank Transfer. This option is inferior to the ACH E-Check because you cannot complete withdrawal using this method and there is a limited list of banks that will comply with your deposit requests. The banks that support Online Bank Transfers include Bank of America, BB&T, Capital One 360, Chase, CITI, HSBC Bank USA, New York Community Bank, PNC, Regions, Santander, TD Bank, US Bank, and Wells Fargo. You will be able to deposit up to $1,500 per day or up to $3,500 per week using this option.
PayPal: This e-wallet will allow you to complete both deposits and withdrawals to and from your Resorts account once you have linked your bank account to your PayPal account. The appealing feature about PayPal is that there is no limit to the amount of money you can deposit which is sure to appeal to some high rollers. The minimum amount of money that you can withdraw at once is set at $100 but you will not be able to order a PayPal withdrawal until you have made at least one deposit using their services.
PayNearMe: Those of you who like to deposit money using cash from your wallet but do not live close enough to Atlantic City to take advantage of the Reorts Casino cashier option will likely want to use PayNearMe. To complete your deposit you will need to initiate the transfer in your account cashier and then visit any local participating 7-11 store with your PaySlip and your government ID. The maximum deposit limits are set at $499 per day and $10,000 per month.
Cash at Casino Cage: The cashier cage at the Resorts Casino in Atlantic City is a great place to complete your deposits and withdrawals using cash, provided you live near the area. They boast relatively high transaction limits, very fast turnover times, and 24-7 service anytime you need them. All you have to do is initiate the transaction through your account cashier and wait for your confirmation email which will give you the information you need to complete your transaction once you get to Resorts Casino.