SugarHouse Online Sportsbook New Jersey was the third online sportsbook to launch in the state of New Jersey in August 2018 as a result of a partnership between their parent company Rush Street Interactive and the Golden Nugget Casino in Atlantic City. Shortly after launching, the sportsbook ended its partnership with the Golden Nugget since their license
did not allow them to accept wagers on any NBA games. This license restriction was due to the fact that the Golden Nugget's owner Tilman Fertitta is also an owner of the Houston Rockets. The sportsbook then started a new partnership with Monmouth Park while the casino portion of the SugarHouse operation stayed partnered with the Golden Nugget.
Making wagers on SugarHouse is not risky at all since they are a fully legal online sportsbook for those who are located within the state lines of New Jersey and they are regulated by the New Jersey Division of Gaming Enforcement. It is safe to say that your winning bets will always be paid and your withdrawals will always arrive in your bank account so the only thing you have to worry about is whether or not this is the right site for you. Throughout this review, we will cover all of the major features of SugarHouse Online Sportsbook New Jersey and compare them to the other legal sportsbooks offered in the area so that you can answer that question for yourself.
Sports, Leagues, and Betting Markets Available
When compared to the local online competition, SugarHouse Online Sportsbook New Jersey offers an above-average number of markets that you can wager on with a total of 19. Some of the markets that are found here that you will not usually find in other sportsbooks of New Jersey include darts, E-sports, and handball. Below you will find the list of every betting market available:
• American Football
• Australian Rules Football
• Baseball
• Basketball
• Boxing
• Cricket
• Cycling
• Darts
• E-Sports
• Golf
• Handball
• Hockey
• MMA
• Motor Racing
• Rugby
• Soccer
• Table Tennis
• Tennis
• Volleyball
Once you have selected the market you wish to wager on, a drop-down menu will appear that reveals all of the leagues that you can currently make a wager on. The sports that have the most leagues available for wagering are the soccer and basketball markets.
After you select the market you wish to wager on you will see the full list of event options in the middle of the screen along with the payout odds for with each possible selection. By clicking on the "More Wagers" link next to each event you will be able to see all of the side bets and prop bets that are available for that event.
Live Betting
The live betting lobby can be accessed by clicking on the "Streaming Live" tab that is in the upper-left corner of the SugarHouse Online Sportsbook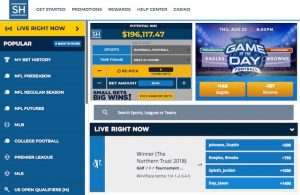 main lobby. Every betting market offers live betting as long as there is an event happening.
At the top of the live betting lobby, you will see all of the events that are currently running in the Live Right Now section. Underneath the Live Right Now section, you can find all of the upcoming events listed in groups with other events from the same betting market. Just like in the main betting lobby, you will be able to see any available game prop bets or player prop bets by clicking on the "More Wagers" link next to any event of your choice.
Live Streaming and Play-by-Play
SugarHouse Online Sportsbook New Jersey offers both a live streaming feature and a play by play feature which is rare for the New Jersey market. Once you select the event you wish to make a live wager on, you will see the live streaming feed in the upper right-hand corner of the page.
At the bottom of the live streaming box, you will see an icon of a playing field which will bring you to the play-by-play feature when clicked on. Next to this playing field icon will be another icon with four vertical lines which will show you all of the relevant statistics from that sporting event when clicked on. With the play-by-play feature, you will be able to see updates on what the result of each play was without having to watch the game.
Mobile Betting
The SugarHouse Online Sportsbook app allows you to make sports bets from your mobile device as well as create a new account or initiate a banking transaction. In addition, this app will give you access to the SugarHouse Online Casino and all of their live dealer table games.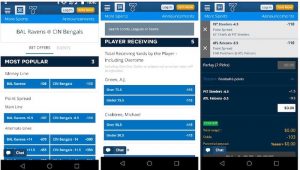 You can download this free app using either an Android device or an iOS device such as an iPhone or iPad. If you plan to download the app using an Android device you will need to click on the "Get Started" tab at the top of the SugarHouse Online Sportsbook homepage and then click on the "Get It For Android" button at the bottom of the page. Those of you with an iOS device can simply download the app from the App Store by searching for "PlaySugarHouse Sportsbook".
Jackpot Parlays
This unique bet type will randomly select however many upcoming contests you want and form a parlay that will pay out a massive amount of money if it hits. On the dropdown menu at the top of the jackpot parlay page, you can select how soon all of the events will begin and what sports the parlay will include.
All of the selections that the computer randomly picks will be underdogs in their match but if you choose to include the maximum of eight legs for your parlay the payout will usually be over $100,000 for just a $1.00 wager. The amount that you are allowed to wager on jackpot parlays ranges from $0.10 and $2.00.
Welcome Bonus and Other Promotions
New sports bettors at SugarHouse Online Sportsbook will be eligible to claim a 100% match deposit bonus for up to $250. All you have to do is enter the bonus code "250MATCH" on your first deposit and the deposit amount will be doubled. The playthrough requirement for this welcome bonus is set at 1x the deposit amount which is much easier to clear than most other online sportsbooks in the New Jersey area.
One of the most lucrative promotions that SugarHouse Online Sportsbook offers is the 50% Weekly NFL Profit Boost. This bonus will add up to $250 in maximum earnings onto a winning bet and the maximum bet amount is set at $50. You can take advantage of this promotion once every Sunday during the entire NFL season for any contest that offers payout odds of -200 or greater.
Another great NFL promotion is the $100,000 Pick 'Em which costs a total of $150 to enter. Each week you will be required to choose who you think will be the winner of every NFL contest and at the end of the season there is guaranteed to be at least $100,000 in prizes paid out with at least $30,000 going to first place. If you enter this contest after the season has started you are still eligible to win prizes on a weekly basis since the players with the most correct picks each week will split the $1,000 weekly prize.
The iRush Loyalty Rewards program on SugarHouse Online Sportsbook enables you to earn Rewards Points for your play which can then be traded in for cash or free bets in the bonus store. The rate at which you earn rewards points for sports betting all depends on how many contests are involved in your wager. For example, a new player who makes a straight bet will earn one Reward Point for every $6.00 that is wagered while a 10, 11, or 12 leg parlay will earn one Reward Point for every $0.50 wagered. You will need to earn 40 Rewards Points before you are considered a Level 1 Rewards player, 160 Rewards Points to become a Level 2 Rewards player, and 20,000 Rewards Points to achieve the status of a Level 10 Rewards player. Those who reach the upper echelon of this iRush Rewards Program will be eligible to receive prizes such as a free mobile device, limo transportation to Rivers Casino, expedited withdrawals, and VIP dinners.
Banking Options
SugarHouse Online Sportsbook New Jersey offers eight different deposit options and five different withdrawal options. What sets them apart from other online sportsbooks in the New Jersey area is that they offer three different options that allow you to deposit using cash from your wallet. The minimum deposit amount for all of the banking options listed below is set at $10.
Credit and Debit Cards: The plastic cards that are accepted at SugarHouse Online Sportsbook New Jersey include Visa Card, MasterCard, and Discover Card. These are the most popular deposit methods but they may come with a fee attached depending on which bank you use. If your bank does not allow deposits to online sportsbooks then you can use your card to load money onto a SugarHouse Play+ Prepaid card and use that card instead.
SugarHouse Play+ Prepaid Cards: These personalized prepaid cards are paired with your Sugarhouse Online Sportsbook account so that you can deposit or withdraw funds. The maximum deposit limit is set at $2,000 and the maximum withdrawal limit is set at $25,000.
Any withdrawals using these prepaid cards will be processed in under 24 hours. You can also use these Play+ cards to get cash instantly at any PULSE or NYCE ATM but each ATM transaction will charge a $2.00 fee on top of the usual ATM fees. You must use your card to perform a transaction at least once every six months or else you will be charged a $2.95 inactivity fee.
ACH (E-Check): This electronic banking method can be used to deposit or withdraw funds and there are no fees attached for either transaction type. All withdrawals have a $25,000 maximum limit and will be completed in 3-5 business days after your request. To complete a transaction using this method you will need to enter your routing number, account number, and driver license number.
Online Bank Transfer: As long as you have an account at one of the hundreds of banks that are supported by Online Bank Transfers you will be able to order both deposits and withdrawals using this electronic banking option. Some of the supported banks include Wells Fargo, Bank of America, and CitiBank. There is not much of a difference between an Online Bank Transfer and an ACH E-Check.
PayPal: This e-wallet can facilitate both deposits and withdrawals for your SugarHouse Online Sportsbook account. All withdrawals will be processed in under 24 hours but before you are eligible to make a withdrawal using PayPal you will need to make a deposit using their services.
PayNearMe/VanillaDirect: Both of these banking options allow you to deposit money using cash from your wallet. The maximum deposit limit for both methods is set at $500 and both options have a payment counter at most 7-11 or CVS stores. When you travel to the participating location you will need to bring your photo ID as well as your transaction's payslip or bar code which you will receive after starting the deposit online.
Cash at Casino Cage: The cashier cage at the Golden Nugget Casino in Atlantic City can be used to make both deposits and withdrawals using cash. Withdrawal requests are generally processed in 24 hours while deposits can be done instantly once you arrive on site. This is the only banking option that is not electronic but allows you to complete withdrawals from your account.