The Indiana Gaming Commission has filed paperwork to permanently revoke the occupational gaming license of Rod Ratcliff, a principal owner of Gary's Majestic Star casinos and the new Hard Rock Casino in Northern Indiana. Ratcliff, who has been a significant figure in the state's gambling industry for years, is now being asked to give up his ownership stake in Spectacle Entertainment, which owns the existing casinos, as well as the under-construction Hard Rock Casino Northern Indiana.
The immediate concern surrounding Ratcliff's legal battle is the impact that it could have on the scheduled spring opening of the $300 million Hard Rock Casino. The Majestic Star gaming boats on Lake Michigan were set to be replaced by the new land-based casino in March or April, but IGC is now telling the boats to continue operations until at least June, as they work to revoke Ratcliff's license all together.
Cause for Concern
The IGC initially suspended Ratcliff's license on an emergency basis back on December 23. Ratcliff then chose to challenge the initial suspension at the Lake Superior Court in Hammond. The IGC's decision to take harsh action against Ratcliff stems from a long period of questionable practices in his positions as a previous owner and CEO of Centaur Gaming and in his more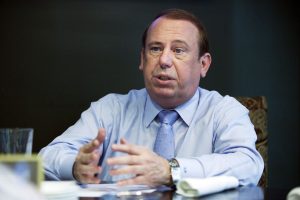 recent roles as CEO of Spectacle Entertainment, the parent company for Gary casino. At this time, Ratcliff has not been charged with any crimes, but his actions do raise red flags about his credibility in the gaming industry.
According to the IGC, the latest allegations against Ratcliff include an oral offer of employment to an unidentified Indianapolis attorney and lobbyist. The unnamed party, with supposed political connections in Gary, would become the CEO of Spectacle Entertainment. In violation of gaming laws in the state, Ratcliff failed to report the job offer to the commission. Ratcliff also failed to report the 3,000 ownership shares granted to the unnamed party, as well as the "significant monetary settlement" that was reached after Ratcliff rescinded the job offer.
The same CEO position was then offered to another party who owns and operates a lobbying firm, this time with a level of compensation that the commission deemed unreasonable. The CEO position that was offered was then changed to executive vice president and was eventually rescinded entirely due to the fact that the commission found the person to have zero experience in the gaming industry.
A History of Questionable Practices
Ratcliff's recent dealings with those in a position of political power appear to be an ongoing pattern of behavior, stemming back to a 2016 Republican congressional campaign. The IGC's recent filing features an email and calendar entry that ties Ratcliff to a straw donor scheme involving former state Sen. Brent Waltz, R-Greenwood and former Spectacle Vice President and General Counsel John Keeler.
Ratcliff allegedly put into motion a scheme that funneled casino company money into a Republican congressional campaign, which of course raised questions about his ability to properly uphold the gaming standards set forth by the IGC. Both Waltz and Keeler were indicted in September by the U.S. attorney in Indianapolis for their violation of federal campaign finance laws. While Ratcliff has not been charged and denies any wrongdoing, his ability to adhere to the IGC's regulations is still in question.
The IGC insists that Ratcliff has repeatedly failed to cooperate with the ongoing investigation. Additionally, the commission alleges that Ratcliff has exercised control of Spectacle finances after resigning from his company posts and failed to disclose necessary information about Spectacle ownership to the commission. Additionally, Ratcliff failed to report nearly $900,000 in deposits to a personal horse wagering account between 2015 and 2019, as well as the resulting wins and losses.
Ratcliff Claims Innocence
Ratcliff and his defense team maintain that he is innocent and should be able to retain his license. His defense suggests that the IGC's decision to suspend his license without a full hearing was done in complete haste, due to the fact that they lacked any substantial evidence against him. Ratcliff's court filing claims that the suspension of his license was invalid because the seven-member commission lacks a member who lives in a county adjacent to Lake Michigan. State law permits the commission to act with just four members in attendance, which would justify the action taken against Ratcliff. His lawsuit also accuses the IGC of interfering with his efforts to sell his 22% share of Spectacle, forcing him to take a "fire-sale price" from Hard Rock International.
As Ratcliff awaits an official hearing for the accusations put forth by the IGC, the future of the Hard Rock Casino continues to hang in the balance.