Unless you have been in hiding for the past few months, the Covid-19 (Coronavirus) Pandemic is undoubtedly something that has consumed much of your days and nights. With the pandemic affecting virtually every corner of the globe and nearly all industries, this is truly an unprecedented time period. Perhaps nothing proves this belief more than the fact that nearly all professional sports leagues and competitions around the world have been canceled for the foreseeable future. While the seemingly endless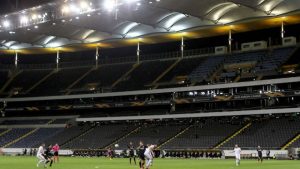 list of cancellations is a sad sight for sports fans, its an even more dismal sight for sports bettors and sportsbook operators.
While physical sportsbooks have quite literally shut their doors, online sportsbooks are still alive, trying to make the most of what is a barren landscape. Below, we will delve into what bettors and sportsbooks alike are doing to offset the complete and total absence of traditional sports.
Simulated Video Games? You Bet
Though any and all high-profile sporting leagues around the world have been suspended or outright canceled by now, the NBA regular season and NCAA March Madness were two of the first dominoes to fall. When the NBA canceled the rest of its season earlier in March, fans thought that things could not get much worse. Then, only a few days later, the NCAA Men's Basketball Tournament—which was previously slated to be played behind closed doors—also announced that it would be canceled altogether. Soccer leagues in Europe were holding strong, playing matches without fans, but soon that was done away with as well. League after league followed suit shortly thereafter, but online sportsbooks did not waste time wallowing in their sorrows. Instead, many came up with ideas for how to keep sports betting revenue alive.
One of the consistent themes we have seen is online sportsbooks posting betting lines on video games where two computer-controlled teams battle it out to reign victorious. There were betting lines available for simulated NBA games, simulated soccer matches, and even a simulated NCAA tournament. There is no saying how much revenue was generated from these ploys, but considering sports betting is seemingly nonexistent in the real world, video games are a good, albeit temporary, solution.
Horse Betting on the Rise
Sites like FanDuel in Pennsylvania began promoting their horserace betting more fervently thanks to horseraces being the only live action available. Again, there is no word on how much more traffic and revenue was earned from horse betting, but in this unprecedented absence of mainstream sports one would have to think that horseracing is doing a decent job of filling the void.
In the coming weeks however, there is uncertainty whether horses will even be running for too much longer. Most US states and nations have banned gatherings of more or less any size, so without spectators it will be interesting to see if horse races continue to run.
No matter whether you are someone who is looking to bet on anything, or just a bettor who is patiently waiting for sports to return to normal, these are uncertain times. The unfortunate truth is that we are likely looking at a few more months of a sports desert before any semblance of normalcy is regained.