Parx Casino and Racing in Bensalem Pennsylvania first opened in 1974 and has since grown to become the largest land-based casino in the second largest casino market in the country, Pennsylvania. When it first opened, Parx was known as the Philadelphia Park Racetrack and Casino and was renowned for its thoroughbred horse races. In 2006 the racetrack was awarded a conditional slots license by the Pennsylvania Gaming Control Board, which led to the construction of the casino. The casino opened shortly after, and officially adopted the name "Parx" after the construction
was completed in 2009. The venue was expanded shortly after to help introduce new table games, such as poker and blackjack. In 2019, Parx launched its sportsbook and online casino for players throughout the state of Pennsylvania.
Today, Parx offers a variety of options for players to bet at their brick-and-mortar location, or through their online sportsbook and casino. Anyone interested in playing at their online casino can expect the same integrity and reliability that they have come to know at Parx's brick-and-mortar location. The online casino must adhere to the standards laid out by the Pennsylvania Gaming Control Board. The online casino also has a trustworthy partner in the form of igaming software provider GAN, who has 15 years of experience in providing online gaming.
In the following sections, we take a closer look at Parx's online casino to see what games they have to offer and how they stack up against the competition.
Game Selection at Parx Online Casino PA
Upon visiting Parx online casino, players will see various gaming options, as well as a banner advertising games, promotions, and support options for the site. Parx offers iGaming support through live chat and email between the hours of 10AM and 12AM EST, which is a testimony to their dedication to customer service. The home page also lists featured, new, and popular games for you to choose from; if you wish to explore a wider range of options, the "View All" tab will take you to Parx's entire selection of games offered. Under the view all tab, players will still see featured, new, and popular sections, in addition to options for "Tables" and "Vegas Classics." Parx online casino does offer online slots, but the absence of a slots section under their game selection is a bit surprising. The view all tab also offers a search function for anyone who knows exactly what they are looking for. This is a nice alternative to scrolling through multiple pages of gaming options.
Anyone who has visited online casinos in neighboring New Jersey may feel that Parx online casino has relatively limited offerings. It is important to remember that states develop their own laws regarding gambling regulation, and many states throughout the country have had online casinos for a quite some time. When comparing Parx's online casino to competitors within the state, their selection is impressive, perhaps even the most extensive. Additionally, their website is smooth and easy to navigate.
It is also worth noting that Parx online casino will be adding live dealer blackjack, roulette, baccarat, and more in the near future. This will give players access to games that offer live dealers via video for some of their favorite games. This is a popular option for anyone interested in playing these games in real time with real people and is a reflection of Parx's dedication to offering the best selection of games for its players.
Slots
The fact that slots does not have its own section at Parx online casino certainly will raise a few eyebrows. Upon closer examination, players will notice that the slots dominate the selection at Parx online casino, so the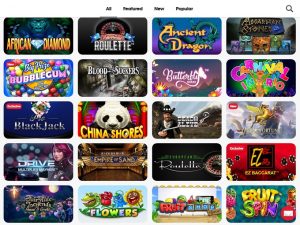 absence of a slots section is not necessarily a major issue.
Parx online casino currently offers more than 100 different online video slots. While the number of available slots may pale in comparison to some online casino's in neighboring New Jersey, the quantity of Parx online casinos offerings does not necessarily have a negative impact on the quality. Parx offers some of the most popular slots, such as Wheel of Fortune, Triple Diamond, and Starburst, making it an attractive destination for anyone interested in playing online slots in the state of PA.
As it stands, Parx has plenty of slots to offer, and possibly some of the most extensive online offerings in the state. It is possible that additional slots could be added in the future.
Table Games
Parx online casino offers some of your staple table games that can be found at any brick-and-mortar location. Their selection includes blackjack, roulette, baccarat and video poker. Unfortunately, Parx offers little in terms of variety for online table games. The site does have regular roulette, American roulette, European roulette, French roulette, and roulette advanced, but other than that the options are lacking. At first glance, it looks like there are nine different table games offered at Parx online casino. Upon further review, however, there are the four games listed above, with different variations.
Parx has a long-standing history as a prominent gaming location in the state of PA, and with that reputation players have come to expect a wide selection of gaming options. When it comes to their online tables selection, Parx falls a bit short of this mark. Other online casinos offer more variations of the games listed above, and some even offer other table games such as craps. The absence of these options may come as a surprise, but much like their slots offerings these options could be added at a later date.
Video Poker
Players will notice that Parx online casino does not actually have a "Video Poker" section listed as one of the gaming options; this is because Parx lists their video poker games under the "Tables" section of their site. You will see Game King Video Poker as well as Jacks or Better represented by two different clickable buttons. While the Jacks or Better icon is for a Parx-exclusive version of the game, the Game King logo will take you to a portal where a full library of Game King video poker games will be available.
Game King is arguably the most popular video poker provider as they are supported by industry-leading gaming technology company, IGT. The existence of only two video poker icons is misleading in that it leads one to think that there are not a substantial amount of options, but in reality that is not true. Sure, there are Pennsylvania online casinos with more well-defined video poker sections, but Parx does cover the bases, albeit in a confusing way.
Specialty Games
Anyone who is looking to play games like keno, scratch card games, or war will have to turn to other online casinos for their needs. At this time, Parx online casino does not offer any specialty games. Over time, specialty games maybe be added to Parx online casino.
Parx Online Casino PA Mobile App
Parx online casino is available for both iOS and Android devices. iOS users are able to download the application from the App Store, however Android users must download the real money casino application from the Parx site itself. There does exist a social casino within the Google Play Store, however this is a free play casino that does not allow real money play. Parx Online Casino app does require users to use location services to prove they are in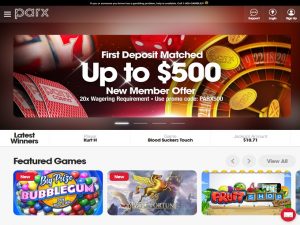 the state of Pennsylvania.
The mobile app does differ significantly from the Parx online casino site. The app is aesthetically simple to navigate and operates in a landscape layout. Navigation and creating an account is simple. It appears that the game selection on the app is limited in comparison to the site, and the layout of the app differs significantly as well. The app does provide selections for "Tables," "Slots," "Video Poker," and even "Keno" despite the fact that there is no Keno section listed on their website. The slot offerings appear to only offer 12 different selections, which obviously pales in comparison to the 100+ offered on the site.
Despite lacking the number of gaming options that are available on the site, the app does provide easy access to games on the go for players who are interested.
Promotions and Rewards
In terms of promotions and rewards, Parx doesn't have many options for their online casino. A number of online casinos offer players the option to link their brick-and-mortar rewards account to their online account; Parx, however, has yet to make this option available for its players. Parx players can link their rewards account with their sportsbook account, so perhaps this option will be available for their online casino in the near future. While other online casinos offer sign up, welcome, and refer a friend bonuses, it appears that Parx's current promotions are limited to a first deposit match.
Parx's first deposit match is an enticing option for new players to take advantage of. Players can use the promotion code CASINO500 before making their first deposit and Parx online casino will match 100% of that deposit up to $500. The deposit match is rewarded as "restricted bonus" funds, meaning that the matched deposit can only be used for casino play at Parx. These restricted bonus funds are awarded immediately to the players account and must be used within 30 days of being awarded. If the funds are not used in this time, the funds will expire. These funds also have a 20x playthrough requirement before players can turn those restricted funds into cash that can be withdrawn. In other words, if a player deposits $100, Parx will credit an additional $100 in restricted bonus funds. That player must then wager $2,000 on casino games in the next 30 days in order to convert those funds to real money.
Banking at Parx Online Casino PA
Banking options at Parx online casino offer players a number of different ways to deposit and get right into the action. Many of the methods that are available are common for online casinos throughout the country, and players will most certainly find an option that works well for them. Deposits at Parx online casino are almost always instant, while withdrawals must be approved, taking 48-72 hours, depending on the method selected. The following banking methods are available at Parx online casino:
Credit/Debit Card: One of the most straightforward methods of depositing through Parx online casino; provide your credit or debit card information to begin depositing and playing.
Play+: This method works as a pre-loaded debit card. Funds can be added to the card via a linked virtual wallet or bank account. Withdrawals with this method can take up to 48 hours.
ACH e-Check: By providing a routing and account number for your bank account, as well as your state identification, you can transfer funds directly your bank account to your Parx online casino account. This method provides you with quick access to their deposited funds.
PayNearMe: This method requires the player to login to their account and print a PayNearMe barcode that is specific to their account. With this barcode, players can visit the nearest participating 7-Eleven, CVS, or and Family Dollar store to deposit to their Parx online casino account via the store's cashier.
Cash @ Cage: Players who live near the Bensalem brick-and-mortar location can elect to visit the casino and deposit to their account via a cashier there. This method will make funds instantly available to you.
Bank Wire: Bank wire is another way for players to transfer their funds directly from their bank account to their Parx online casino account. This method can take up to 24 hours to complete.