FOX Bet online sportsbook PA first launched on September 4, 2019. Its launch came as the result of a collaboration between one of America's largest broadcasting companies, FOX, and some of the gaming industry's most prominent leaders. Seeing an opportunity to capitalize on the growing sports betting market in the United States, FOX sought to offer a unique approach to sports betting by creating a sportsbook through their already popular sports network, FOX Sports. This unique pairing changes the way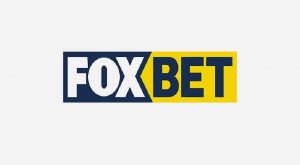 you can engage in sports betting, giving you access to live sports broadcasts through cable networks and online streaming platforms, while offering popular betting lines.
While FOX Sports may be a household name in the United States, the jury is still out on whether or not FOX Bet online sportsbook can follow suit. We took a closer look at FOX Bet's offerings to see if their sportsbook stands up to the competition.
Company Background and Licensing
FOX Bet Pennsylvania online sportsbook is the result of FOX Sports' pairing with gaming industry leader, The Stars Group. The Stars Group is a Canadian-based company that produces and offers online gaming services. They may be best known for their popular PokerStars brand, but The Stars Group is also known for producing reputable sportsbook products.
Given this partnership, players should have no worries regarding the legitimacy of FOX Bet online sportsbook. FOX Bet and The Stars Group are licensed providers and adhere to the regulations needed to maintain integrity and security for their customers.
Numerous states, including Pennsylvania, require online sportsbooks to be linked with a licensed and regulated brick-and-mortar casino/sportsbook. This adds another level of security for players, giving them a point of contact for any issues they may have with their bets. FOX Bet online sportsbook partners with Mt. Airy Casino for this purpose. Any players who visit FOX Bet will notice this partner casinos logo at the top left corner of the site.
Sports, Leagues, and Betting Markets Available
FOX Bet online sportsbook has an impressive array of available sports betting markets. Like many sportsbooks based in the United States, FOX Bet PA tends to promote, if not favor, the most popular domestic competitions, such as the NBA, NHL, NFL, or college sports. Although these markets are placed front and center, that does not mean this sportsbook is lacking in a variety of other betting options from across the globe. FOX Bet's offerings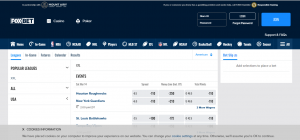 are extensive, and include just about every sport imaginable, excluding esports. FOX Bet online sportsbook PA offers the following betting options:
-Baseball
-Basketball
-Beach Volleyball
-Boxing
-Cricket
-Cycling
-Darts
-Football
-Golf
-Hockey
-Motor Sports
-Rugby League
-Rugby Union
-Soccer
-Tennis
-Track & Field
-UFC
-Volleyball
FOX Bet online sportsbook's homepage promotes some of the site's most popular bets for you to take advantage of. The "Popular" tab offers the daily Super Boost and Bet Boost options, as well as trending bets (we will explore what this means a bit later). To the right of the Popular tab you will see tabs for the latest promotions, as well as a tab for recent results. The Promotions tab, unsurprisingly, lists a number of enticing betting promotions you can take advantage of, while the Results tab organizes the most recent results of any sporting contests you may have placed a wager on. The homepage also features a banner at the top which lists upcoming and in-game action for any sports available that day.
While the navigation for FOX Bet is relatively straight forward, its wide array of offerings may intimidate new players. Again, it's clear that the most popular American sports leagues tend to take the spotlight in terms of what is appearing on the front page and top banner, but upon clicking the "All" drop down menu players will find many more offerings. Under the All tab, sports are listed alphabetically, but with such a wide array of betting options, a search function could greatly improve navigation on FOX Bet.
It does seem as though FOX Bet makes some effort to promote the games that they broadcast. A banner on the top right side of the page intermittently displays "As Seen on FOX Sports" betting options for players to take advantage of. This can be an enticing feature for anyone who is looking to streamline betting and watching the games they bet on.
In-Game Betting
In-Game Betting is pretty self-explanatory: if you're interested in placing a wager on a game that is taking place, then this is the place you should be looking. It is important to note, however, that some sites have limited offerings when it comes to live or in-game betting; this is not the case with FOX Bet online sportsbook. Many of the same selections available for pre-match betting can be made live, with updated odds to account for how the game is panning out.
In addition to the substantial selection of in-game bets, FOX Bet Pennsylvania also offers a gamecast feature that gives bettors live updates of the game upon which they are wagering. The gamecast shows bettors live scoreboards, stats, standings, and even virtually displays what is happening in the game in real-time. Seeing live updates from the game can help bettors make informed decisions about the bets they are placing. This feature is one of the many instances in which users can see the benefits of using a sportsbook that is operated by a sports broadcasting company. That being said, many sportsbooks offer live streaming for some of the sports they feature, but it appears that FOX Bet has yet to establish any connection to its live sports streaming services via their sportsbook.
Trending Bets
Think of Trending Bets as an inside look into who is betting what. The Trending Bets banner shows you some of the top wagers that other bettors are taking. For example, if the St. Louis Blues are playing the Florida Panthers (NHL), and the majority of bettors have taken the St. Louis Blues money line at -162, then that bet will appear on the trending bets tab.
The Trending Bets usually features around 10 of the most popular bets made. These bets can be from any sport, but given the demographic for FOX Bet, the majority of these bets are domestic based competitions, with your occasional popular European soccer match thrown into the mix. Trending Bets is a nice feature from FOX Bet that gives bettors an inside look at where the money is for some of the most popular bets.
Super Boost and Bet Boost
Super Boost and Bet Boost are FOX Bet Pennsylvania's version of FanDuel's Odds Boost. FOX Bet takes popular parlays, prop bets, or other wagers and boosts the odds to encourage bettors to take those selections. An example for college basketball would look as follows:
Gonzaga & Saint Mary's to both win +155 +190.
Another example of a Super Boost or Bet Boost would be a combination of NBA players to record a double-double or reach an expected number of points in a single game for boosted odds. These bets are updated frequently and usually feature some of the most popular sporting events for the day.
Mobile Betting
FOX Bet PA also offers a FOX Bet app for both iOS and Android mobile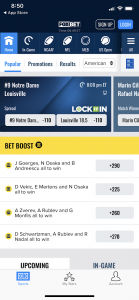 devices. Players using iOS devices can easily download the FOX Bet app from the App Store. Unfortunately, Google Play Store does not offer any betting apps, so Android users must use their mobile web browser to access and download the app.
The FOX Bet mobile app is a mirror image of the site. The set-up of the home page offers the same popular bets, trending bets, bet boosts, and other bets that the home page of the site would display. The tabs for selecting available bets are also organized the same way as the website.
Welcome Bonus and Other Promotions
FOX Bet Online Sportsbook has a number of enticing promotions that often tap into their panel of sports broadcasting experience. They also feature common welcome and sign up bonuses that can be found at other popular sportsbooks, such as FanDuel. For example, FOX Bet has a welcome offer for anyone who registers a new account that automatically gives them $20 to play with. In addition to the free $20, FOX Bet promises to match players' first deposit up to $100. That means that new players can get up to $120 to play with immediately after registering their account. However, it is important to note that these additional funds are not available to be withdrawn until the player has turned them over 100% at a minimum odds of -200. In other words, anyone who accepts both of these promotions must make at least $120 worth of bets on selections with odds of -200 and up in order to withdraw their winnings.
Many of FOX Bet Pennsylvania's promotions operate similarly to their bet boost. A number of FOX Sports analysts have their own promotions that allow players to try and maximize their winnings. Rachel's Double Up Bet Boost has FOX Sports analyst Rachel Bonnetta single out a selection for bettors to make a play on. When bettors make their bets, FOX Bet boosts the odds to a straight double-up to increase the winnings. Similarly, the Wright Bet Boost has analyst Nick Wright select a parlay of the day. Bettors who select that parlay get boosted odds from FOX Bet. Both of these offers have a maximum stake limit.
FOX Bet also offers promotions for their LOCK IT IN Bet Boost and Clay Travis Blood Bank. The LOCK IT IN Bet Boost comes from a live broadcast every Friday, where a panel of FOX Sports experts analyzes every betting opportunity to pick the day's best parlay. Once the parlay is selected, it becomes available for boosted odds on FOX Bet. The Clay Travis Blood Bank is a pick selected by FOX Sports analyst Clay Travis offered for boosted odds. Again, all of these promotions come with a maximum stake limit.
FOX Sports clearly makes an effort to capitalize on their branding as a reputable sports broadcasting network in a way that promotes their own shows and analysts. While this may come across as a bit of shameless self-promotion, it gives bettors insights that they might not find at other sportsbooks, and offers an enticing array of promotions for bettors.
Banking Options
FOX Bet Online Sportsbook offers a number of depositing and withdrawing options that can be confusing to new players, especially given the explanations provided on their site. Here we do our best to make these options as clear as possible. Anyone who signs up with FOX Bet Online Sportsbook can deposit and withdraw through the mobile app, website, or downloadable desktop software. Bettors must take note that all of the payment options with FOX Bet Online Sportsbook may not be available for both depositing and withdrawing. When it comes to depositing at FOX Bet, bettors may use Skrill, Stars Transfer, PayNearMe, PayPal, Visa, Mastercard, and Instant eChecks. For withdrawals, players must rely on Skrill, PayPal, or Instant eChecks. Below you will find a detailed description of each method.
Skrill: is an electronic wallet and payment service form PaySafe, that allows you to directly deposit and withdraw from your FOX Bet account. With FOX Bet, you can transfer funds to your Skrill account via your bank account, check, and credit or debit cards. Bettors using Skrill may do so through the desktop client, mobile app, or website.
Star Transfer: Star Transfer can be completed through the desktop client, mobile app, or website. Star Transfer is essentially a betting account players may have established with another one of The Star Group's casinos or sportsbooks. This method can be used for deposits only. This method requires users to link their FOX Bet account with their online banking. New players can activate Star Transfer by linking their bank account setting up online bill pay with one of the following supported banks: Bank of America, BB&T, Capital One 360, Chase, PNC, Regions, SunTrust, U.S. Bank, or Wells Fargo. All banking information and credentials are guaranteed to remain secure between bettors and their respective bank.
PayNearMe: PayNearMe is a service that allows bettors to make in-person deposits at convenience stores near them. Bettors can go to the nearest 7-Eleven and make a deposit with a bar-coded PaySlip that is personalized to their account. The PaySlip can be used multiple times, but currently these deposits can only be made at 7-Elevens when you are in the state of Pennsylvania. Players simply take the PaySlip to the nearest 7-Eleven and deposit cash via the cashier.
PayPal: PayPal is an e-wallet service that allows bettors to make deposits and withdrawals with their FOX Bet account. Funds can be uploaded to PayPal with your debit or credit card or by linking your bank account. It is important to note that only one PayPal account can be linked to your FOX Bet account.
Debit/Credit Cards: debit and credit cards are only accepted when making deposits for your FOX Bet account. If you are interested in withdrawing money you must choose one of the other options offered through FOX Bet Online Sportsbook.
Instant eChecks: Instant eChecks are a virtual check that allows you to transfer funds electronically between your bank account and your FOX Bet account. These checks work the same way that any paper check would work. It can take up to seven days for funds to transfer, in which your deposit will be given an "uncleared" status. While a deposit is uncleared, you may not withdraw or request cash transfers that are greater than your uncleared deposits.